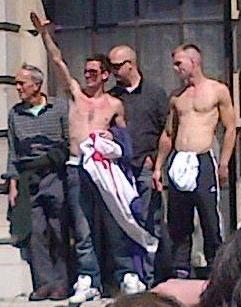 A list of more than 200 English Defence League supporters councillor that was published on the internet yesterday after the far-right group's records were hacked by the activist group Anonymous.
The Daily Telegraph reports that the list of supporters includes teachers, company directors, former and serving soldiers, council officials and small business owners from across Britain. The EDL has international backing, with adherents in the United States, France, Australia, Norway, Belgium, Holland and Canada.
Among listed as financial supporters of the EDL is John Fletcher, a City of London Corporation member for the Portsoken ward. The Telegraph points out that this ward "includes part of Tower Hamlets and Whitechapel. Nearly a third of residents in his ward are Muslim".
Update:  See also "What type of place do EDL donors come from?", Guardian, 31 May 2013