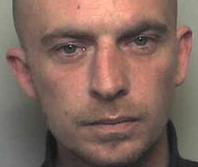 A Carlisle man who set fire to the Koran in an act of "theatrical bigotry" has been jailed. Andrew Ryan, 32, shouted abuse about Muslims as he set the book alight in the city centre in January. Yesterday he was sent to prison for 70 days by district judge Gerald Chalk.
Ryan, of Summerhill, off London Road, Carlisle, claims to be a member of the English Defence League. He arrived at Carlisle Magistrates' Court flanked by flag-waving supporters. Carrying the St George's Cross, they were shouting "We love you England" and a variety of other nationalistic chants. Some followed Ryan into the building and when his sentence was passed they stormed out, shouting abuse as they left the courtroom.
Ryan initially refused to go with the dock officers but before he was led way, Judge Chalk told him: "This is a case of theatrical bigotry, pre-planned by you. You stole the book and went out with the deliberate aim of causing the maximum publicity, and the maximum distress for people of the Islamic faith.
"People are entitled to protest in this country, it is a free country, but you are not entitled to do it in such a way as it will inflame. You are a man who has a history of violence and there is no alternative but custody."
The court heard that Ryan has a number of previous convictions, including one for racial chanting at a football match.
He had pleaded guilty to racially/religiously aggravated intentional harassment and theft of the Koran from Carlisle library at anearlier hearing. On that occasion he punched the air and shouted "no surrender" when the case was adjourned for pre-sentencing reports. During police interview he admitted that he knew his actions would stir up religious hatred.
Before the hearing the English Defence League Carlisle Division called on members to support Ryan. An offer was made to meet anyone travelling to the city at the railway station. In anticipation of potential disorder, there was high police presence both inside and outside the court. Officers had to move on Ryan's baying supporters after he was sent down.
Ryan was sentenced to 70 days for racially aggravated harassment and 30 days for theft, to run concurrently. An order was also made for the destruction of his iPhone – which was used to post Facebook messages about how he had burnt the Koran.
The Daily Mail reports Ryan's conviction under the headline "'What about burning poppies?': Court outburst of man jailed for setting Koran alight". The article begins: "A man has been jailed for 70 days today after he burnt a copy of the Koran just over a month after a Muslim got away with a paltry £50 fine for a similar offence." Unsurprisingly, it has been reproduced on the Casuals United blog.
Needless to say, the report provokes the usual spate of bigoted comments (and, as usual, bear in mind that comments on theMail's website are pre-moderated):
"Just to repeat 'WHAT ABOUT BURNING POPPIES'…. this country has truly lost the plot."
"ok to burn the union flag, ok to burn poppies, ok to wish death on our soldiers-NOT ok to upset a muslim, this country needs to be pulled back from the idiotic path it has taken under new liebore"
"So now its official. One law for them and one law for us. We are being persecuted, discriminated against and turned into second class citizens in our own country. When are we going to get the guts to protest. Will the history of our once proud people end with a whimper rather than a bang. Sadly we looks as though it will. What betrayal of the past generations who gave thier lives for country and we its people. Why did they ever bother?"
"Anyone at all not seeing now the racism against its own people ? …. A 45 quid fine should have sufficed. This is our country …. we are allowed to say who should be in it . It is just not the elite few who think they own it. If the so called elite had come down hard on the traitors in this country this book burning would not have taken place. How much longer do they expect us to be quiet and see whats going on? 50 years from now the country will be in a civil war equal to that of Bosnia…. and it wont have been the ordinary people that caused it but our dimwitted and traitorous poloticians."
"ANYBODY else feel like a foreigner in your own country ? Poppy burning or Bible / Koran burning is all the same and deserves the same punishment But anyone burning poppies then getting a slap on the wrist and then threatening to do it again lock him up and then take away his British passport and kick him out!"
"One rule for them one rule for us! Makes me sick to be ENGLISH!"
"This story tells it all. There is no longer any pretence of a democracy in this country, and there is certainly no pretence of any sense of fairness or justice towards the indigenous poeple of this country. That is it, I am now joining the BNP. No ifs or buts. This judgement quite clearly shows that British people are now second class citizens. Pure and simple!"
"We should bring all our Troops home and send all the Islamic extremists back to where they can practice Sharia Law, I think that is a fair trade but the scum that burnt the poppy has threatened to do it again, they have threatened to disrupt the Royal Wedding, WAKE UP BRITAIN! They all need deporting not a measly £50 fine! FREE ANDREW RYAN"
"this man put up his life for this country…..if you think people were angry about the poppy burning…..it is nothing up to what they feel now…..enough appeasement .free him now."
"This man should have been rewarded, not punished!!!"
"We should break him out of prison."
"This just shows how Islam is seeing to be winning in this once proud country !!! W H E N will the judiciary and government WAKE UP!!! The radicals are abusing our 'sense of fairness' and our HUGE fear of being branded 'racist' to a disgusting degree!"
"By differentiating like this between Muslims and the rest of 'us' judges are getting it very wrong. Pandering to Muslims breeds resentment and will cause a real groundswell of anger."
"the day will come when england does awakin and then justice shall be served remeber this country is C of E"
"It's OKAY to burn poppies, the flag of our country or the Holy Bible. That's what happens when you listen to the regular political parties and their friends in the media, and fear electing a political party that practically agrees with every one of your views and will fight for them."
"And the government wonder why we're starting to back the BNP all of a sudden..?"
"Muslims can abuse our troops, call them murderers and child killers, burn an age old emblem the poppy whose only purpose is to show respect for the dead of two horrific wars, and the perpetrator 'rewarded' with a measly 50 Pound fine and leaves court smirking saying he won't pay it. If that isn't worthy of a jail sentence, I don't know what is. Mr. Ryan should not have stolen the Koran, instead bought one, THEN burned it!"
"So Muslims can burn the symbols we love like rememberance poppies, our national flags and our bibles but we burn the Koran and get jail. How is this equal treatment irrespective of race, religious belief or gender?"
To be fair, a number of commenters do make the obvious point, ignored by the Mail's provocative headline, as to why Ryan received a heavier sentence than the poppy burner:
"Maybe because of his six previous convictions. Maybe because of the fact he also pleaded guilty to theft as well as religiously aggravated harassment – two rather serious offences (theft maximum possible seven years, religiously aggravated harassment two years). Maybe because of aggravating circumstances that surround his sentence that we don't know about, because they haven't been reported. But nah, it's probably because the magistrates are NULIEBOUR spies determined to destroy (once great) Britain, right?"
"The bloke has SIX such convictions in the last 9 years, and he's surprised he's been sent to jail for a miserly and pitiful 70 days of which he will only serve 30. If anything this is a soft sentance considering he's been arrested for public order offences on SIX separate occasions!!!"