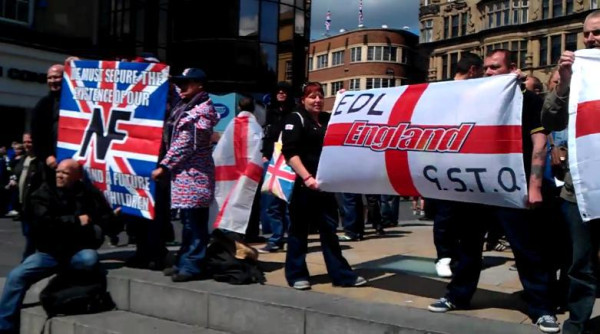 English Defence League joins the neo-Nazis of the National Front in Newcastle on 4 June
A thug has admitted throwing a firecracker during fierce clashes after English Defence League supporters stormed an anti-Jubilee rally.
Anthony Crawford hurled a firecracker into a group of demonstrators at Greys Monument in Newcastle on June 4, 2012. The 22-year-old, of Elmway, Chester-le-Street, Durham, pleaded guilty to the offences at Newcastle Magistrates Court on Thursday, June 28.
An 18-year-old man was taken to Newcastle Freeman Hospital for treatment to burns suffered when the explosive hit his face and landed in his hood.
He was with friends at a "Stuff The Jubilee Party" which was organised on Facebook and due to start at midday. Members of the EDL carrying banners arrived shortly beforehand. A line of around 25 officers separated the two groups.
A 45-year-old-man from South Tyneside was also arrested on suspicion of affray and was bailed pending further enquiries.
Crawford will be sentenced on July 4.
Evening Chronicle, 28 June 2012
See also "EDL supporter admits throwing firecracker at anti-Jubilee protester in Newcastle", Sky Tyne and Wear, 28 June 2012