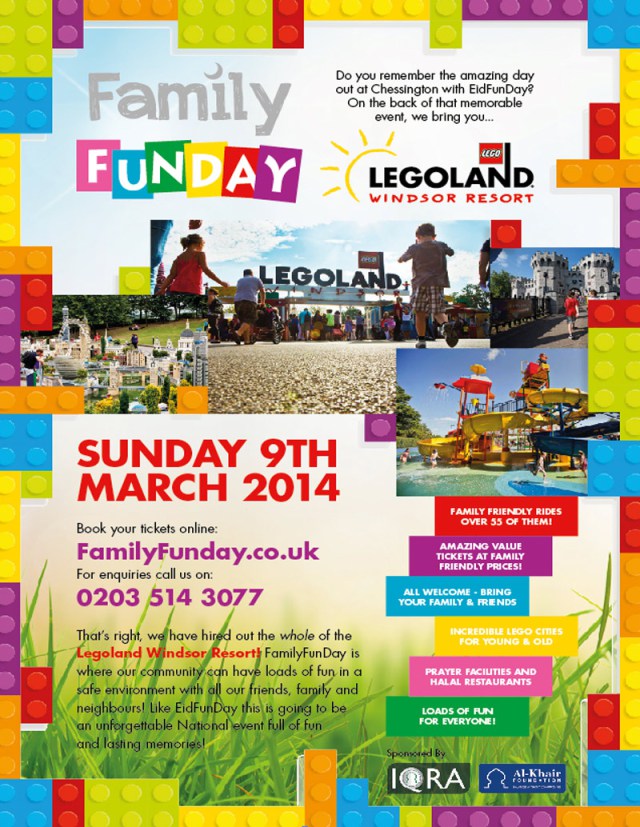 The past few days have seen a frothing-at-the-mouth far-right campaign against a decision by Legoland Windsor to allow a Muslim organisation to hire the theme park for a family day out.
You may think you've heard this before, and you would be right. This is essentially a rerun of the campaign last year against an event at Chessington World of Adventures held by the same Muslim group, and in both cases the source of the campaign was a post on an extremist anti-Muslim website called Kafir Crusaders.
In the course of this latest outbreak of anti-Muslim hysteria the Legoland Windsor Facebook page has been assailed by angry bigots from the English Defence League and Casuals United, to the extent that Legoland evidently became tired of deleting abusive comments and took the page down. Opponents of the Family Fun Day have set up a Boycott Legoland Windsor Facebook page and are planning to demonstrate outside the park and harass the families who are attending the event. The EDL Facebook page has featured the usual calls for the venue to be blown up with all the people in it.
Initially the campaign was based on opposition to a Muslim organisation being allowed to hire the venue and supposedly exclude non-Muslims. However, the event is to take place on a day during which Legoland would otherwise be closed for the off-season, so nobody else would have been using it anyway. Legoland Windsor also stated that the organisation who had hired the park "welcome friends and family which includes everyone". And it was pointed out that venues are regularly hired out to various non-Muslim organisations, including Christians and the armed forces, without anyone raising any objections at all.
So the far right changed tack. They did a bit of googling and discovered that the organisation hiring the park was the Muslim Research and Development Foundation whose chairman is Haitham al-Haddad. The Boycott Legoland Windsor Facebook page now features the slogan: "Any business happy to host hate preachers is no place for families."
For evidence that Haitham al-Haddad is a hate preacher, Boycott Legoland Windsor has, predictably, linked to a post on the anti-Muslim witch-hunting blog Harry's Place. Again, you may have the feeling that we've been here before. In 2012 Harry's Place unleashed another far-right campaign against the Islamia Village event at the Thorpe Underwood Estate.
In that case, threats of violence and protests by the EDL and its fellow thugs resulted in the venue's management cancelling the event. Hopefully the management at Legoland Windsor will prove more resistant to intimidation.
Update:  See "Police investigate hate comments on Legoland Facebook page", Islamophobia Watch, 13 February 2014
Update 2:  See "Legoland is blasted for 'Muslim day'", Windsor Express, 14 February 2014
And Muslim Research and Development Foundation press statement, 14 February 2014