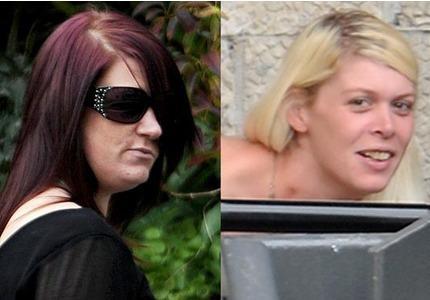 Plymouth based racist Hayley Wells pleaded guilty to racial and religiously aggravated assault at Plymouth Crown Court this morning.
The offences took place in August 2010 after an English Defence League meet and greet turned into drunken violence and a takeaway restaurant was attacked. Staff had to lock the group out after threats were made, abuse shouted and glass and bottles were thrown around the shop which at the time had in it an eight week old baby and a 14 year old child.
Wells left the court in tears after the judge advised he could not guarantee that he would not give her an immediate custodial sentence when she returns for sentencing on 22nd February
Wells' co-defendant, Kelly Watterson, pleaded guilty to the lesser charge of affray after getting her religiously aggravated assault charges dropped. Watterson posted the following on her Facebook page after the hearing. "All the racial, religious and assault charges were dropped. Only ended up with a public disorder charge….. Told ya's I was innocent WHOOOOOOP!!!"
Wells has a previous conviction for defrauding Ebay customers out of money after listing non existent iPads for sale.
Update: See also "Plymouth women admit their part in religiously-motivated assault", Plymouth Herald, 21 January 2013