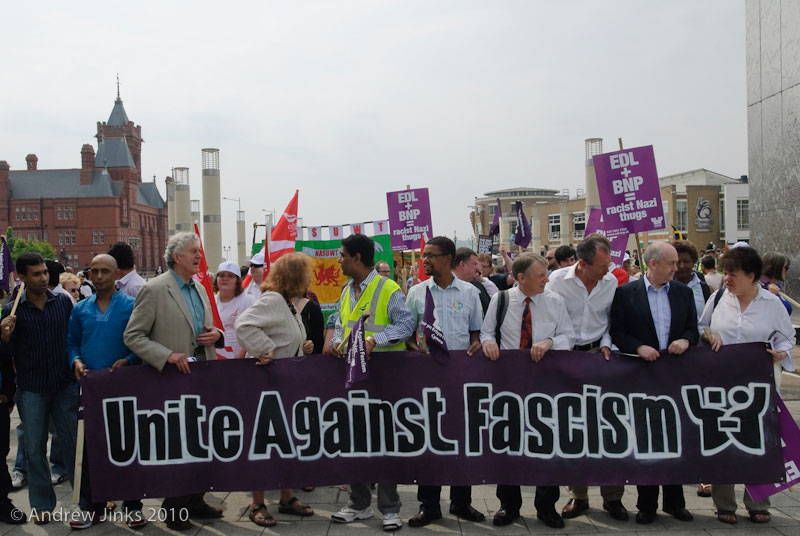 One of Wales' biggest-ever police operations yesterday saw three events in the capital pass off without serious incident yesterday. The rival rallies between the UAF and EDL had the most potential for trouble but police said that, despite security fears, they had made just four arrests and were pleased with the way the day went.
Nearly 400 UAF supporters marched from Cardiff Bay's Millennium Centre through Riverside and the city centre in protest at the EDL rally, and arrived at City Hall shortly before 1pm. Roughly 200 EDL activists were later bused in to a nearby rallying point at 2pm and verbal exchanges and scuffles broke out.
Former First Minister Rhodri Morgan, wife Julie, MP for Cardiff South and Penarth Alun Michael and MP for Caerphilly Wayne David joined the UAF march, holding banners and chanting with protesters.
Mr Michael said: "It has been a terrific turnout and a very strong and positive message about the nature of Cardiff as a multi-racial city which is determined to maintain harmony. The whole city is increasingly multi-racial and proud, and confident in it. It is a quiet, peaceful demonstration that has real authority – we don't need conflict with the EDL, we just need to demonstrate Cardiff is not an environment in which they can flourish."
Unemployed Jamie O'Brien, 30, left Newcastle at 3am to get to Cardiff to support the EDL. He said: "We want to keep the Muslim bombers off our streets – they are getting away with blue murder. We're ultimately cast as racists by the UAF but they haven't got a clue. I'm sick of seeing these Muslims – why do they want to change our country to suit them?"
See also Unite Against Fascism, Welsh Icons and the Morning Star.