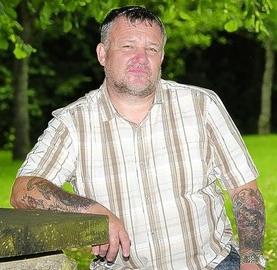 The South West's English Defence League coordinator has been released without charge by police investigating graffiti on a mosque and a Sikh temple.
Mickey Bayliss, 47, who lives near Bitton, was arrested on November 14 along with another man believed to have connections with the EDL.
Their arrests came after the letters "EDL" were daubed in red paint on the Sikh temple in Church Road, Redfield, and in grey paint on a mosque in Valley Road, Bedminster, in September.
After their arrests on suspicion of criminal damage, the homes of the two men were searched. But after months investigating the incident the two men were released from bail on Tuesday, police confirmed yesterday.
Police are now renewing their appeal for witnesses in an attempt to find out who painted the graffiti.
Avon and Somerset force spokesman Martin Dunscombe said: "The two men in custody have been released from their bail, with no further action being taken. Anyone who has information about the damage and has not yet come forward can still do so by calling police on 101."
The graffiti was daubed on the buildings between September 21 and September 25 last year.
Two months earlier Bristol was the focus of a major police operation as around 300 EDL supporters attended a rally in the city. Ten people were arrested after clashes with counter-protesters.
An anti-EDL demonstration drew around 500 people.
Mr Bayliss helped organise the march, which was called in protest at what the EDL claimed was the "Islamification" of Bristol.
Policing the march and counter-demonstration cost Avon and Somerset constabulary £495,000, according to figures released under the Freedom of Information Act.