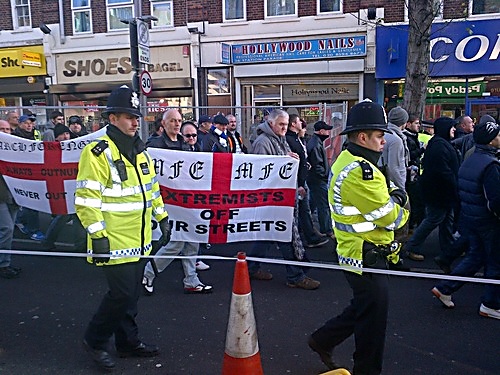 The English Defence League was forced to drag in supporters from as far away as Coventry, Norwich and Weymouth to shore up a miserable turnout in the east London borough of Barking and Dagenham on Saturday 14 January.
Only around 100 EDL supporters turned up for what was billed as a regional mobilisation in Barking – although the racists and fascists had obviously mobilised from much further afield.
In contrast, around 80 people, overwhelmingly from the local area, came to an emergency counter-protest called by UAF at just two days' notice. The antiracist and antifascist protestors included black, white and Asian people.
Ten local Labour councillors joined the counter-demo, along with trade unionists including Steve Hedley, London regional organiser of the RMT railworkers' union, and reps from the PCS civil servants' union.
Some of the demonstrators had earlier staged a vigil for Stephen Lawrence, after two of his racist killers were finally jailed this month.
The antifascist numbers were boosted by local youth and people who had gone shopping in Barking market and were horrified to find the EDL there. Many made their feelings clear by joining the antiracist protest. Market stallholders and other locals thanked the UAF protestors for being there.
Barking voters kicked the fascist British National Party off the council at the 2010 elections – and the EDL, which includes many former BNP members, is just as unwelcome.
Councillor Darren Rodwell told the antifascist protest he wished the EDL would "stop shipping themselves into Barking and Dagenham" because local people hated them for trying to divide the community.
Local people have seen the EDL's vicious racist hatred at previous demonstrations in Dagenham against a proposed mosque. In September, three thugs were jailed after they tried to smash their way into a mosque in the neighbouring borough of Redbridge, attacking the imam. One of the thugs screamed "EDL" during the violent attack.
UAF joint secretary Weyman Bennett said: "We have beaten BNP leader Nick Griffin in Barking and Dagenham and we will beat the racists an fascists of the EDL as well."
UAF news report, 14 January 2012
See also Hope not hate, 14 January 2012
Update:  See photos of UAF demonstration by Kelvin Williamshere.