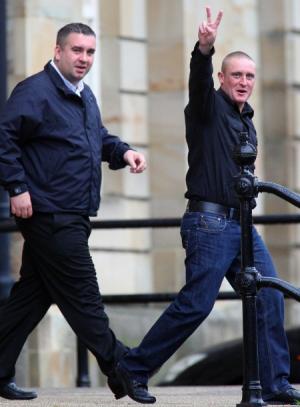 Two former English Defence League (EDL) members daubed "racially offensive" material on a mosque and two Asian-run businesses in revenge for the burning of poppies by an extreme Islamic group.
Steven James Vasey, 32, and 24-year-old Anthony Donald Smith were yesterday jailed for a year for their attack, which followed incidents at a war memorial in Luton on Armistice Day last November.
Days later, on the eve of the Muslim Eid festival to mark the end of Ramadan, the masked men, along with an accomplice, climbed a fence after dark at the Nasir Mosque, in Brougham Street, Hartlepool. The initials EDL and NEI – North-East Infidels – as well as the words "no surrender", the cross of St George and figures of red poppies, were sprayed before two figures were seen fleeing the premises.
Chris Baker, prosecuting at Durham Crown Court, said a taxi seen in the area at the time was similar to a vehicle spotted later in Potto Street, Shotton Colliery, County Durham, where an upstairs window at the Milco convenience store was put out with a brick. Similar graffiti to that sprayed at the mosque was daubed at both the shop and the nearby Albert Guest House, in Front Street, both run by an Asian businessman.
Mr Baker told the court: "There's a certain irony in that the targeted store was selling poppies at the time."
He said Smith, who drove for the taxi company and had links to the EDL, was arrested the following day.
Messages found on his phone revealed him planning with Vasey and a third accused, Smith's girlfriend at the time, Charlotte Christina Davies, who he met at an EDL rally in Amsterdam earlier in the year. Mr Baker said the text messages included claims they were going "Muzzy bashing" and that the mosque was going to be given "a makeover".
Vasey, formerly of Pittington, near Durham City, but now of Eden Crescent, Darlington; Smith, of Rydale Court, Trimdon Station, County Durham and Davies, 19, of Aylesbury, in Buckinghamshire, all admitted conspiracy to commit racially aggravated criminal damage.
Shaun Dryden, for Vasey, said it had been a "foolish venture". Stephen Constantine, for Smith, said he had, "a lack of insight" into the consequences of his actions, which were caused through his outrage at the poppy burning. Jane Waugh, for Davies, said her involvement was merely text messages encouraging Davies' involvement. Barristers for all three said they have now severed their ties with the EDL.
Jailing Vasey and Davies, Recorder William Lowe told them: "It's said this was carried out for what some extremists did on Armistice Day in Luton, as seen on TV. It may be that was something these three had in mind, but it does not excuse this conduct. It's the sort of behaviour from which those who are militant feed." Davies was given a 12-week prison sentence, suspended for a year, with 200-hours' unpaid work.
You'll note that whenever EDL members get charged with committing a crime they invariably claim that they're no longer members of the EDL. A case of "No Surrender … until we find ourselves in court".
See here for the EDL's response to the sentences.
Update:  See also "Yobs jailed for mosque attack", Peterlee Mail, 4 October 2011