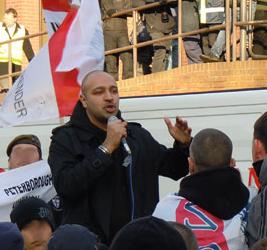 One of the leaders of the English Defence League (EDL) will face no further police action after being arrested following their controversial march in Peterborough.
Guramit Singh (28), from Nottingham, was arrested on December 21 on suspicion of causing religiously aggravated harassment, alarm or distress.
The arrest came after a member of the public complained about the content of Mr Singh's speech delivered outside Peterborough Magistrates' Court during the EDL protest on December 11. Mr Singh's speech was heard by around 1,000 EDL supporters, who took part in the protest, as well as hundreds of shoppers.
A spokesman for Cambridgeshire Police said: "Following a detailed police investigation and advice from the Crown Prosecution Service, he has been released with no further action."
Mr Singh was not available for comment but fellow EDL leader Tommy Robinson said: "We are pleased the charges were dropped – there was nothing in them."
Peterborough Evening Telegraph, 8 March 2011
---
The content of Singh's Peterborough speech can be sampled here.
So, while Emdadur Choudhury, an idiot follower of Anjem Choudary, can be prosecuted and fined under the Public Order Act for burning poppies on Remembrance Day, it appears that a leader of the racist EDL can engage in foul-mouthed abuse of British Muslims without any legal sanction at all.
ENGAGE has commented on the double standards of the right-wing press who expressed outrage that Emdadur Choudhury was fined a mere £50. Can we now perhaps expect those same newspapers to condemn the failure of the police and CPS to take action against Guramit Singh?