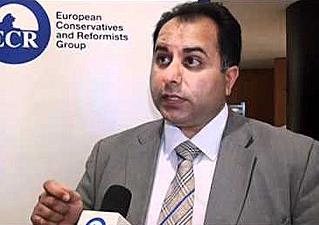 The British Muslim member of the European Parliament Sajjad Karim and his family have been placed under 24 hour police protection following a protest by the right wing English Defence League at his constituency residence in north west England.
According to the MEP of Pakistani heritage, around 50 EDL extremists turned up unannounced at his UK address on Saturday at just after midday, bearing anti-Islamic placards intent on violence.
"It was only through the presence of Lancashire Constabulary officers that harm was avoided," he told media via a digital message. He went on to say that the extremists then carried on to his original hometown of Brierfield, Lancashire, where they carried out violent attacks and four arrests were made.
Associated Press of Pakistan, 4 July 2011
See the Casuals United blog for the EDL's account of the events. They report: "Sajjad Karim who voted against the labelling of Halal meat produts [sic] thought he was going to have a quiet sunny afternoon with his family in the family home but little did he know that just around the corner the EDL were gathering."
Update:  See also Asian Image, which reports that Sajjad was in the house with his wife, Zahida, and their ten-year-old son and eight-year-old daughter during the EDL demonstration. He is quoted as saying that the protestors "were incredibly intimidating and they were all over my driveway and looking into my house. I had my family in the house and it is just disgusting that they were able to do this. My daughter has been left petrified."
The EDL – combating "Islamic extremism" by frightening eight-year-old kids. True patriots.