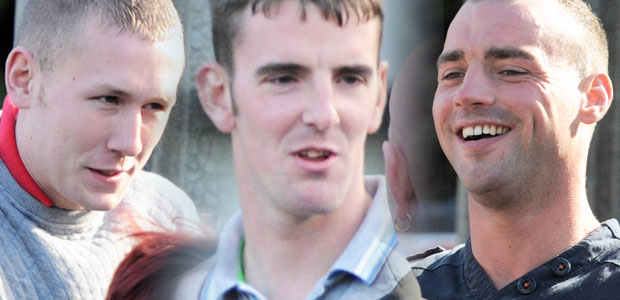 Jak Beasley, Dean Spence and Christopher Caswell
Three men linked to a right-wing pressure group have had their convictions quashed for racially aggravated public disorder. The trio's fines were also slashed for behaviour described by a Teesside judge as obnoxious, unnerving, disgraceful, drunken, anti-social and inconsiderate.
They were among six men, all associated with the English Defence League (EDL), convicted by Teesside magistrates of racially or religiously aggravated disorder last August. It was alleged the men sang a highly inflammatory religious chant at Middlesbrough railway station.
Jak Beasley, 23, Christopher Caswell, 32, and Dean Spence, 23, appealed against the conviction at Teesside Crown Court yesterday. This appeal was not opposed by the prosecution as a crucial witness had since emigrated to New Zealand.
The men accepted they committed a lesser disorder offence without the racial element, and appealed against fines imposed by magistrates.
Prosecutor Tamara Pawson said the group of men, including the three, were seen to be drunk, loud, swearing, abusive and singing EDL chants on the platform. She said they were verbally aggressive to a British Transport Police officer, accusing him of being "anti-British".
CCTV showed members of the group clapping, putting hands in the air and taking pictures with phones during the incident on the evening of December 10, 2011. The men had visited several pubs after coming to Middlesbrough to watch football.
Lewis Kerr, defending, said: "This was a relatively brief, although unpleasant, incident. The three men in the dock were not so heavily involved." He said fines and costs should be reduced to reflect incomes and debts of labourers Beasley and Spence and self-employed roofer Caswell.
Judge John Walford, sitting with two justices, said the men should be ashamed of their behaviour and he hoped they'd learned their lesson.
Beasley, of Cedar Road, Bishop Auckland; Caswell, of West Auckland Road, Darlington; and Spence, of Yew Close, Spennymoor, each had their £455 fines reduced to £185, £515 costs reduced to £250.