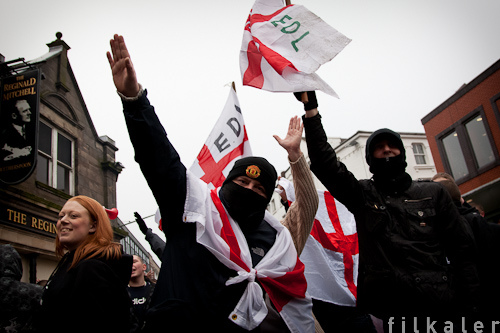 An English Defence League demonstrator who was at the forefront of a group which broke police lines has been jailed for 16 months.
Mark Doel became involved in violence at the demonstration in Hanley city centre on Saturday, January 23. Prosecutor Paul Spratt told Stoke-on-Trent Crown Court yesterday that at about 1.30pm, items were being thrown at police including glass bottles, cans and a smoke cannister.
"About 100 people had broken free from the group being cordoned to come round the rear of the police lines," said Mr Spratt. "A police dog handler became aware of a group of men at the rear of the police unit. He then saw the defendant run to the front and shout abuse at the officers.
"He (Doel) kicked out to the back of a slightly built female officer and punched her to her helmet, causing her to fall to the ground. She was later assaulted by another individual and was kicked and stamped on."
Judge Granville Styler said an immediate custodial sentence had to be passed. "This was a very serious matter," the judge told Doel, a father-of-one from Primrose Hill, Batley, West Yorkshire. You travelled to Stoke-on-Trent and, I take the view, you travelled in order to take part in a demonstration. You consumed five pints of lager.
"You knew the police were having difficulties restraining an increasingly violent crowd. You were at the forefront of a breakaway group. You attacked a policewoman from behind and knocked her to the ground. It was an extremely dangerous situation. And it encouraged others to attack this officer while on the ground, and she was stamped on."
See also Click Liverpool, which reports that "Two neo-Nazi member of the extremist English Defence League have appeared in court accused of soliciting the hate killings of Jews."