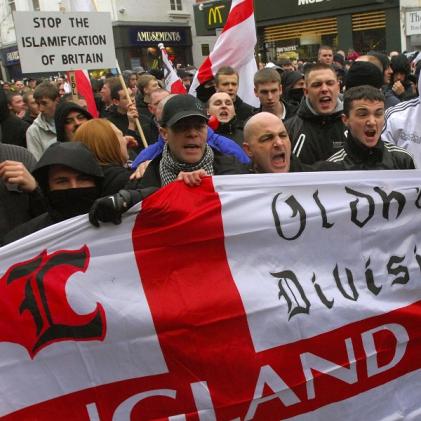 The Pits n Pots blog reports on yesterday's English Defence League protest in Stoke-on-Trent:
To begin with, the demonstration was noisy from the off but largely peaceful, there were people of all ages in attendance. As the time wore on though, the influence of alcohol seemed more apparent and large sections of the protesters began to get bolder. There was a prolonged episode of pushing against the police line as protesters tried to surge forward and get towards the U.A.F counter demonstration that was taking place just 150 meters down the road. A few youths managed to slip past police lines but were swiftly dealt with.

The demonstration began to turn ugly with protesters attacking the police with bottles, coins, placards and wood torn from nearby hoardings. Riot gear was then deployed to a police force who had started the day off wearing their traditional helmets, as part of the Police's co-ordinated attempt to put protesters at ease.

The situation began to reach fever pitch when a youth clambered up onto of a police riot van much to the delight of his fellow protesters. Not to be outdone, two more youths then clambered up onto the concrete veranda outside Argos and ran along it wearing a captured Police helmet, both youths were arrested.

The E.D.L's plan for a peaceful demonstration seemed to evaporate before their eyes as hooligans and extremists seemed to orchestrate proceedings. At one point the EDL supporters were even heckling their own invited speakers, chanting "who are ya?" at the Sikh speaker whose presence had been widely publicised on the E.D.L website and Forums.

Although the police operation was very much one of Cat and Mouse with groups of protesters trying to slip past police lines and outflank them, we saw the police deal with situations quickly and effectively every time. As the demonstrators began to head towards their buses and make for home, there were clearly some frustrated youth, they began to turn their anger towards us by verbally abusing us and trying to grab our equipment.

Wandering over to the U.A.F demonstration, the police had space of 10 meters or more between them and the protesters, even though trouble was anticipated from the UAF, they resembled a student peace protest and were well behaved. The Police tonight revealed to us that there had been no U.A.F associated arrests at all. Their demonstration consisted of a totally peaceful gathering with speakers chanting slogans through a microphone and the crowd willingly echoed the chants "Nazi Scum off our Streets" and "We're Black , we're white, together we are dynamite" echoed outside the town hall.

As they headed off, one wonders what must have been concluded by anyone who saw the demonstration. It's hard to see how such a display could win the E.D.L much support in Stoke. Speculation was rife on the street that they had been infiltrated by far right extremists, and football hooligans. Whatever the truth is, the E.D.L's public image took a very public battering today in Hanley.
See also A Very Public Public Sociologist, 23 January 2010
Update:  See "Three charged after English Defence League protest", BBC News 24 January 2010
Further update:  See "Six protesters charged after clashes at English Defence League demonstration", Daily Mail, 25 January 2010