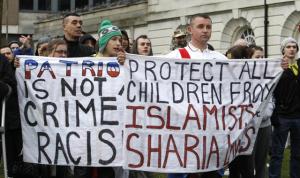 An English Defence League protest in Rochdale on Saturday led to 34 arrests, but the police were delighted it passed off without large-scale disorder.
Almost 500 supporters of the far-right group travelled to the north-west town for the event, while around 100 people gathered for a counter-demonstration organised by Unite Against Fascism.
Greater Manchester Police had a high-profile presence on the ground and, with the help of leaders from the local Asian community, managed to keep the peace.
A metal fence was erected between the EDL and UAF supporters who gathered close to the Cenotaph, and although there were some minor disturbances, there were few signs of the situation degenerating into violence.
Three people were detained for possession of an offensive weapon, but most of the arrests were for minor public order offences, for failing to remove face masks and for being drunk and disorderly.
EDL supporters had carried banners with slogans such as "Patriotism is not a crime" and "Protect all children from Islamists". The Manchester Evening News reported that they had been addressed by a speaker who talked about allegations of sexual exploitation of children in Rochdale.
Anti-EDL demonstrators, who included representatives of local mosques and trade unions, carried placards reading 'Smash the English Defence League' and 'EDL + BNP = Nazi-racist thugs'.