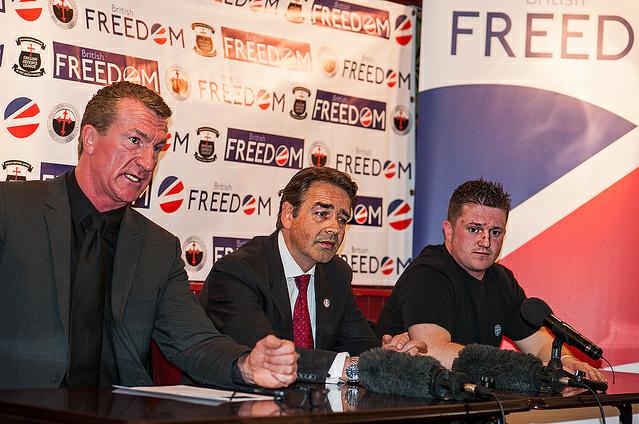 An English Defence League leader has been announced as a candidate in the race to become police and crime commissioner for Bedfordshire. Kevin Carroll, who lives in Farley Hill, says he will end "political correctness" and "two-tier policing" in Bedfordshire if he is voted in.
Bedfordshire will vote in its first commissioner this autumn, with the winning candidate acting as "the voice of the people" and holding the police to account. They will also aim to cut crime and deliver an effective and efficient police service.
An EDL spokesman said Mr Carroll, who is also co-vice chairman of the British Freedom Party had "strong views on policing" and wanted to make the police "properly accountable to the law-abiding majority who pay for it".
They said he would be campaigning for an end to cuts to the police service, a crackdown on drug dealing, for the police to stop manning mobile speed cameras, and for officers' pay and conditions to be improved.
The English Defence League is asking its members for donations to help raise the deposit of £5,000 needed to field a candidate. So far £533 has been raised.
In 2009 Mr Carroll was convicted of a public order offence for hurling abuse at Muslims protestors at the Poachers' homecoming parade through Luton. He subsequently lost an appeal against the conviction.
The announcement that an EDL candidate was standing met with dismay from Labour party candidate Olly Martins.
"The EDL thugs are about the least appropriate people to run for police commissioner," she said. "The timing of Mr Carroll's and the EDL's announcement attempts to stain our celebration of a proud and tolerant nation as displayed by the Olympic opening ceremony and our Team GB athletes.
"But these fascists shall not succeed and in November I have no doubt that their nasty and divisive views will be consigned to the dustbin of political history."
Among the commissioner's specific responsibilities will be setting force priorities, appointing and, if necessary dismissing, chief constables, setting the force budget and publishing an annual report on police performance.
See also British Freedom news report, 28 July 2012
What a pity EDL co-leader Stephen Lennon isn't able to stand for election. His twelve-month prison sentence for assaulting an off-duty police officer would give him an understanding of the challenge faced by the police in combating violent criminality. And he would no doubt be able to offer some insights into the problem of drug dealing too.