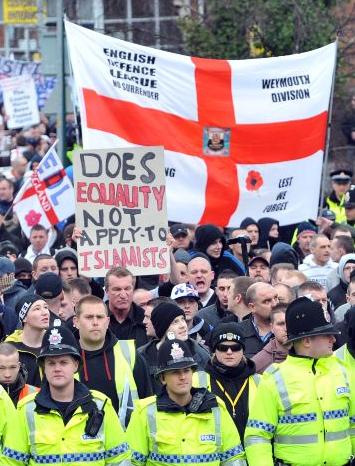 Police arrested eleven people for minor public order offences as a march by the English Defence League today passed off without major incident.
About 600 people who had come from all over England marched through Hyde in protest over the alleged attack on trainee baker Daniel Stringer-Prince. The 17-year-old suffered a fractured skull in an alleged attack by up to eight Asian men. His family pleaded with the EDL to abandon the march but it went ahead anyway.
The march began shortly after 1pm when about 600 EDL supporters marched from the town's train station to a car park, where they held a mini rally. The British National Party also had about 50 supporters in the town.
Greater Manchester Police mounted a huge security operation with dozens of officers on the ground, on horse-back as well as India 99, the force helicopter, overhead, while dog handlers were also on hand.
Manchester Evening News, 25 February 2012
See also "Local people protect mosque as fascists try to stir racism in Hyde", UAF news report, 25 February 2012