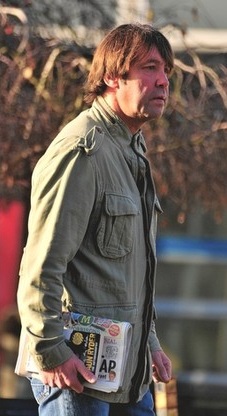 A man who slapped a security guard across the face at Asda and called him a "f****** Muslim" insists he is not racist.
Adrian West was banned from the supermarket in Pegler Way, West Green, in April for shoplifting but returned when he was drunk on September 15. The security guard who had detained him in April recognised West and asked him to leave, at which point West became verbally abusive.
He called Adriano Brito a "mother f*****" and told him: "You shouldn't be allowed in this country. F*** off to your own country."
West, 50, from Ditchling Hill, Southgate, appeared at Crawley Magistrates' Court for sentencing last Thursday, having pleaded guilty to racially aggravated assault at a previous hearing on November 19.
The court heard that, after verbally abusing Mr Brito, West left through one exit but made his way around to the other exit, by McDonald's, where the guard again confronted him and told him to leave.
West then called him a "f****** Muslim" and again shouted: "F*** off to your own country" before slapping him across the face.
When interviewed by police he said he had no recollection of the incident but accepted it had happened when he was shown CCTV footage from the supermarket. He told police he may have made racist comments but was not racist.
A report from the Probation Service stated that the only possible reason West could think of for making such comments was the amount of alcohol he had drunk coupled with "negative reports in the media" about Muslims, which he claimed may have influenced his thoughts subconsciously.
Geoff White, defending, said: "The difficulty is that he can't remember what happened. He was shown the CCTV and he identified himself on that CCTV. He said to me 'I'm genuinely surprised by what I said'.
"His only explanation is that he was intoxicated and, looking back at his record, when he gets intoxicated, he gets himself into trouble." The court heard West has a string of convictions for violent behaviour while drunk.
Mr White added: "Through me he is publicly apologising to that man [Mr Brito]. He says he has no ill feeling towards people of that particular ilk."
In August 2009 West stabbed a 16-year-old boy, Alex Head, in the neck in Tilgate Park after an all-day drinking session. He was jailed for three-and-a-half years for the attack.
After looking at his previous convictions, magistrate Alan Tait said, when sentencing for this latest incident: "You have – I don't need to remind you – a very bad record of using violence.
"It stopped some years ago, then about four years ago you had a serious incident and we have to do something about trying to prevent that sort of thing happening again. Yes, it seems that alcohol is a trigger, but it's not an excuse."
West was given a 12-month community order which includes 100 hours of unpaid work.
He must also attend an alcohol intervention programme and pay £100 compensation to Mr Brito.