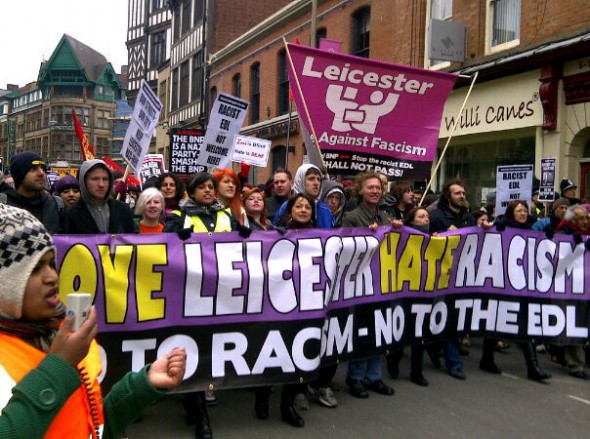 A supporter of the English Defence League head-butted one of the group's opponents during an anti-racism music festival.
James Lee Elliott, 20, was drunk when he attacked a member of Leicester Unite Against Fascism during the festival last year. The assault took place during a free music festival called Love Music, Hate Racism in Leicester's Market Corner in October, Leicester Magistrates' Court heard.
Elliott, who the court heard is already subject to a three-year football banning order, approached an information stall run by Unite Against Fascism and tried to pull down one of the group's posters. After three attempts, the court heard, he managed to pull the poster away and was challenged by a one of the people who were running the stall.
Prosecutor Cheryl Goes, told the hearing on Thursday that Elliott head-butted the man before he was restrained by onlookers and the police were called. When two police officers arrived to take him away, Elliott became abusive, calling the two constables a series of foul names. The officers said Elliott smelled of alcohol and was glassy-eyed.
The officers initially intended to issue him with a dispersal notice, which would have meant he would have to leave the city centre. However, as he continued to swear at them and struggle, they attempted to restrain him but he began attempting to punch and kick them, the court heard. He was eventually handcuffed when a third officer arrived to help his colleagues.
Ms Goes told the court: "During his police interview he accepted he was at the event and was a member of the English Defence League and was angered by the poster." Elliott has seven criminal convictions dating back to 2007, Ms Goes said.
Elliott, of Rona Gardens, Thurnby Lodge, Leicester, had previously pleaded guilty to using threatening behaviour, but denied resisting arrest and assault. He was due to be tried for those offences – which were caught on CCTV cameras – but changed his pleas to guilty on the day of the trial.
Kerry Patrick, representing Elliott, told the court that her client accepted he had been drunk and abusive but denied he had deliberately head butted his victim. He had pleaded guilty to the assault charge because he accepted there was contact between him and the man.
Ms Patrick said: "He accepts he was being abusive throughout and that he was intoxicated. He also accepts he was angered by the content of the poster and that he took it down after several attempts."
The chairman of the bench, William Langley, adjourned sentencing until Thursday, August 2. In that time, probation officers will compile a report on Elliott and his criminal history to guide the magistrates who sentence him.
Elliott was released on unconditional bail.
Leicester Mercury, 14 July 2012
Elliott's criminal history includes a conviction for assault following an attack on a UAF organising meeting in the run up to the EDL march in Leicester in October 2010.