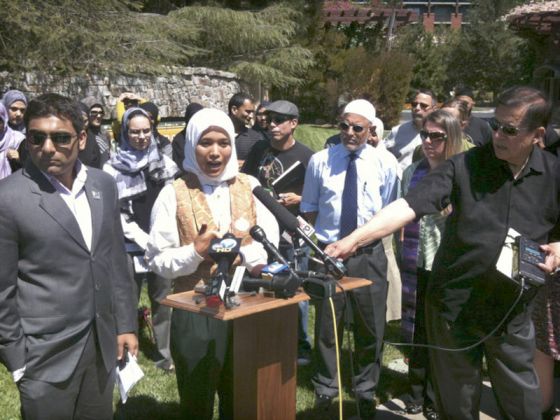 A Muslim woman who works as a hostess at a Disney-owned restaurant filed a discrimination complaint against the entertainment giant Wednesday, saying they have repeatedly sent her home without pay for refusing to remove her headscarf at work.
Imane Boudlal said she has worked as a hostess at Storyteller's Café in Disney's Grand Californian Hotel & Spa for two years and began wearing her hijab Sunday but was told she would have to remove it or take a job working out of public view.
On Wednesday, shortly after filing a complaint with the U.S. Equal Employment Opportunity Commission, Boudlal made her fourth attempt of the week – the first with videographers, photographers and reporters in tow – to begin her afternoon shift at the resort-district restaurant, which features a Chip 'n' Dale theme.
Boudlal said she was again told to take off her hijab, the headscarf some Muslim women wear. Boudlal refused and walked out of the hotel, flanked by chanting supporters. "I've been sent home," she said. "I thought maybe today is my lucky day because I have my friends, my supporters."
"We knew Disney is very sensitive to their public image so we said, 'Go public,' " said Leigh Shelton, a spokeswoman with Unite Here Local 11, the union that represents Boudlal.
Here we have yet another example of "stealth, cultural jihad", according to mad Pamela Geller. Taking time out from whipping up Islamophobic hysteria over the "Ground Zero mosque" to contribute a post headed "Sharia in America: Imposing Islam on Disney", Geller assures her readers: "This is not about hijab, this is about Islamic supremacism."