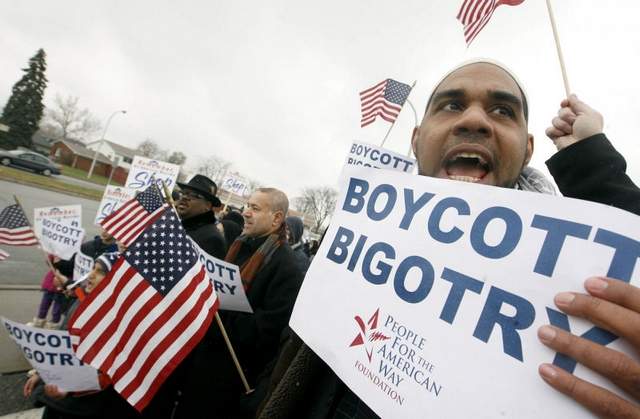 ALLEN PARK, Mich. — Protesters descended on a Lowe's store in one of the country's largest Arab-American communities on Saturday, calling for a boycott after the home improvement chain pulled its ads from a reality television show about five Muslim families living in Michigan.
About 100 people gathered outside the store in Allen Park, a Detroit suburb adjacent to the city where "All-American Muslim" is filmed. Lowe's said this week that the TLC show had become a "lightning rod" for complaints, following an email campaign by a conservative Christian group.
Protesters including Christian clergy and lawmakers called for unity and held signs that read "Boycott Bigotry" and chanted "God Bless America, shame on Lowe's" during the rally, which was organized by a coalition of Christian, Muslim and civil rights groups.
Rep. Rashida Tlaib, a Detroit Democrat and the first Muslim woman elected to the Michigan Legislature, said it was "disgusting" for Lowe's to stop supporting a show that reflects America – the conservatives, liberals and even "the Kim Kardashians" in the Muslim community, she said.
"We're asking the company to change their mind," said protester Ray Holman, a legislative liaison for a United Auto Workers local. He said he was dismayed that the retailer "pulled sponsorship of a positive program."
A local rabbi extended his support to clergy at the protest and local Arab Americans, saying he and other Jews would have been at the protest had it not fallen during the Jewish Sabbath. "I hope that they would likewise stand up and demonstrate should something outrageous like this take place against another religion," Rabbi Jason Miller said in a statement.
Associated Press, 17 December 2011
See also the Detroit News, 17 December 2011