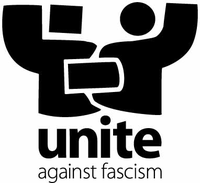 UAF is urging members and supporters to complain to the BBC after Tommy Robinson, leader of the English Defence League, was interviewed on Radio 4's flagship Today programme on Tuesday 11 June.
On the programme Robinson admitted that the organisation has "completely questionable" tactics and went on to say "it's not going to end pretty", although none of this was sufficiently challenged.
Time and time again the BBC have given an uncritical platform to fascists on flagship political news programmes.
Freedom of speech does not extend to giving a platform for those that preach hatred. Historically, fascists when they gain power, remove freedom of speech and human rights, and mass murder and annihilate millions of people. That is why we call for no platform for fascism.
COMPLAIN TO THE BBC
Tel: 03700 100 222 (24 hours, charged as 01/02 geographic numbers)
Post:
BBC Complaints
PO Box 1922
Darlington
DL3 0UR
Online click here
https://ssl.bbc.co.uk/complaints/forms/?reset=#anchor