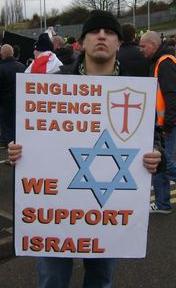 The English Defence League, the extreme right-wing anti-Islamic-fundamentalism group, has launched a "Jewish division", encouraging members of the community to "lead the counter-Jihad fight in England".
It has signed up hundreds of followers on Facebook since the launch last week. Supporters include an ex-Community Security Trust volunteer who claims "a lot of Jewish guys want to get stuck in".
One follower wrote on Facebook "we are all Shayetet 13", in support of the IDF naval special forces unit involved in the Gaza flotilla incident.
But Jewish community organisations responded to the initiative with shock, saying the EDL intimidated Muslim communities and claiming its support for Israel was "empty and duplicitous".
The former CST member, Mark Israel, claimed Jews should back the EDL as an alternative to existing community groups. He said: "I've been involved with groups like CST and the 62 Group for 40 years. At first I thought the EDL was an off-shoot of the BNP but I have been investigating them. They are very pro-active, unlike the Board of Deputies. They are our allies. We have a common cause. These guys want to have dialogue with the Jewish community.
"I know a lot of Jewish guys who want to get stuck in and want to support a physical presence. It is not your typical thing people want to be associated with, but in this day and age we need something like this. Is the CST enough?"
The EDL mission statement says the new division is for "Jewish supporters of the EDL, and supporters of Jewish people everywhere. We are non-racist/fascist and anyone is welcome if they want to live under English values and fully integrate into our way of life".
Last September the EDL brandished the Israeli flag at a demonstration and called on supporters to launch a counter-protest against a pro-Hizbollah march in Trafalgar Square.
Mark Gardner, CST communications director, said: "The EDL intimidate entire Muslim communities, causing tension and fear. Jews ought to remember that we have long experience of being on the receiving end of this kind of bigotry."
Jon Benjamin, Board of Deputies chief executive, said: "The EDL's supposed 'support' for Israel is empty and duplicitous. It is built on a foundation of Islamophobia and hatred which we reject entirely. Sadly, we know only too well what hatred for hatred's sake can cause. The overwhelming majority will not be drawn in by this transparent attempt to manipulate a tense political conflict."