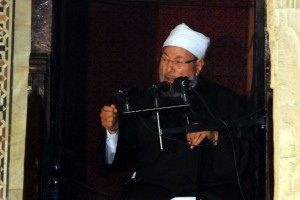 Al-Azhar Mosque was overcrowded on Friday morning with worshipers who came to attend the Friday sermon given by head of the International Association of Muslim Scholars, Yusuf al-Qaradawi.
Hundreds of worshipers, mostly young men, lined up outside the gates hoping to enter the mosque, while others decided to listen to the sermon and perform prayers on sidewalks outside.
This is Qaradawi's first time preaching in the Al-Azhar Mosque.
His last public speech in Egypt was in Tahrir Square during a victory demonstration on 17 February 2011, a week after protests forced former President Hosni Mubarak to step down.
Qaradawi, who is based in Qatar, is a Sunni Muslim figure well-known throughout the Arab world from his continual appearances on Al-Jazeera. A former Muslim Brotherhood member, Qaradawi still maintains close ties to the group.
Security measures around the mosque were not tightened and traffic was organized by the police.
State TV broadcast Qaradawi's sermon, during which he said although he had been preaching for 70 years in the largest mosques worldwide, it was his first time to give a sermon in Al-Azhar Mosque, or even in his home country.
Qaradawi has been living in Qatar for many years due to strained relations with the former Mubarak regime.
He told worshipers that Libyans told him during a visit to Libya that one million Libyans learned the Quran by heart, and promised him that a second million would join them soon. "How many people in Egypt memorize Quran?" Qaradawi asked.
The preacher also praised the Egyptian revolution, saying: "The Egyptian people taught the world how revolutions should be. The revolution triumphed with Muslims, Christians, youth, elders, women and men."
"There are arrogant [rulers] who still want to dominate the people," Qaradawi said, pointing out that Zine al-Abedine's regime in Tunisia and Muammar Gaddafi's in Libya have come to an end, but Bashar al-Assad is still using all means to kill his people.
Egypt Independent, 16 November 2012
See also "Al-Qaradawi calls for unity in support of Palestine",Middle East Monitor, 16 November 2012