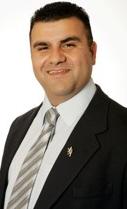 A Conservative councillor has been suspended and is under investigation after allegedly making anti-Muslim comments and sectarian remarks on a social media website, The Guardian has learned.
Chris Joannides's Facebook page contained material comparing Muslim women who wear the burqa to rubbish bags. Another post included sexual remarks in a discussion about a flasher, and a comment that his work as a councillor was getting in the way of his social life.
Joannides is a councillor in Enfield, north London.
News of the incident comes as the Conservative party leader, David Cameron, considers measures to try and increase the low levels of support the party receives from ethnic minority voters. The Conservatives are trying to shed their "nasty" party image and appear more inclusive.
His fellow Conservative councillors decided to suspend Joannides over the comments, which are being investigated.
Over a picture of a woman and child dressed in burqas, with a black bin bag either side of them, Joannides appeared to have written: "I saw her standing there and I told her she had three beautiful children. She didn't have to get all pissed off and threaten me … an honest mistake." In another posting he appears to have "liked" a picture of an Arab woman holding her injured child.
Azad Ali, chair of the Muslim Safety Forum, said: "This is a shocking example of institutionalised and normalised Islamophobia. We expect the Conservative party to take a robust stand against this behaviour and prove that their drive to engage with black minority ethnic communities isn't tokenistic. Further we will follow up with the Metropolitan Police Service and see that full weight of the law is applied."
Update:   See "Enfield Conservative councillor Chris Joannides kicked out of party for 'anti-Islamic' Facebook posts", Enfield Independent, 13 February 2013