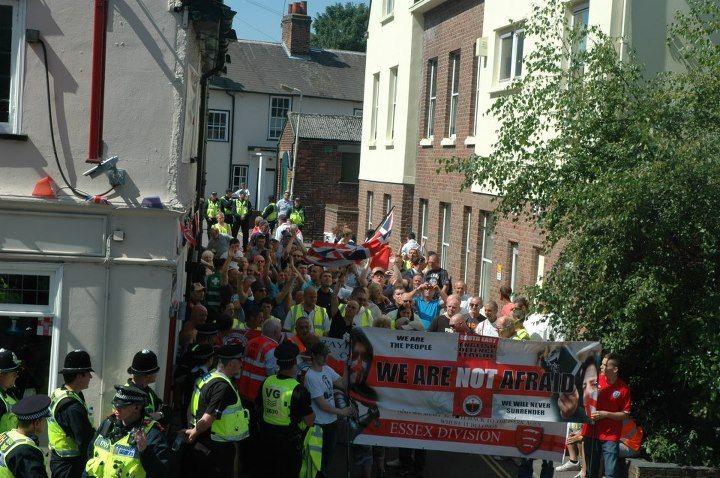 The ever-shrinking forces of the English Defence League in Chelmsford
It was a victory for the police as a potentially explosive double-march involving an anti-Islamic group and their anti-fascist opponents passed through Chelmsford almost trouble free on Saturday.
A ring of police officers surrounded more than 50 members of the anti-Islamic group, the English Defence League, as they walked slowly from the Wheatsheaf pub in New Street to Chelmsford Library.
Fearing a repeat of the trouble that broke out during last month's EDL protest, in which three men were arrested, more than 100 police officers from eight different forces, swamped the city centre, creating blockades with riot vans, to ensure the two groups did not cross paths.
Meanwhile outside Shire Hall, on Tindal Square, around 250 protesters had gathered to support United Chelmsford, a counter anti-racism group set up just weeks ago after the first EDL rally. Their banners dominated the scene. "Smash the EDL and BNP", "No to racism and Islamophobia" were the messages.
This is Total Essex, 20 August 2012
Photos by Total Essex of the two marches can be viewed here.
---
It may be that this report underestimates the participants on the EDL demonstration, but only slightly. Another witness states that there were "roughly 80 of them" at the muster point and the Total Essex video indicates that the number on the march itself fell short of three figures.
However, the EDL's hooligan section Casuals United reported from the scene that "a few hundred EDL" had taken control of the streets of Chelmsford (compared with the "30 Grannies, Union types and scruffy hippies" they claimed were on the counter-demonstration), while the EDL's Essex Division boasted that "the chelmsford demo showed we can get 200 patriots on the streets in essex at any givern [sic] time or place".
The fact remains that, judging by recent protests, the "biggest street protest movement in Britain" continues to shrink, and lying about the turnouts is unlikely counter a growing sense of the futility of staggering drunkenly throught the streets of Britain's towns and cities in ever small numbers surrounded by police and out-mobilised by counter-demonstrators.
Not that this makes the EDL less of a threat. Frustrated by the failure of the street protest strategy, its supporters are likely to turn in increasing numbers towards the more direct and violent forms of racism for which they are already notorious.
Update:  See "Chelmsford gives EDL the cold shoulder", UAF news report, 22 August 2012