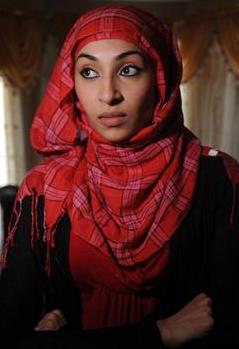 Pickering, Ontario — A young Markham woman who works as an esthetician claims she was fired for wearing an Islamic headscarf because the salon "promotes hair".
Mehwish Ali, a 22-year-old esthetician with Trade Secrets in Pickering, was fired Tuesday, a day after she says the co-owner told her the hijab was unacceptable. "I was devastated when I heard that," Ali told theStar. "I have worn the hijab for more than 10 years and never felt any kind of discrimination."
But Robert Facchini, co-owner of the franchise near Highway 401 and Brock Rd, categorically denies that. "This is a performance issue, strictly a performance issue," he said. "Her performance was poor and it's only based on those comments that the decision to terminate her was made. Nothing else."
Ali disagrees and has turned to the Human Rights Legal Support Centre for help. "I couldn't just shrug it off," she said. "I had to do something about it."
A graduate of the Marca College hair and esthetics school in Toronto, Ali started working at the Pickering outlet of Trade Secrets, one of Canada's larger professional beauty retailers, six weeks ago.
She said she wore a headscarf for the interview, which was conducted by the store manager. A week later, Ali was hired and her job entailed doing facials, manicures, pedicures and waxing services. It had nothing to do with hair, she pointed out.
Everything was going well, said Ali. "I liked my work and the people I worked with." Then, said Ali, Mylene Facchini, Robert's wife and co-owner, walked into the store on Saturday afternoon and saw the young woman in the hijab for the first time.
On Monday, Ali said, Mylene was at the store when she walked into work at about 3 p.m. "I was wearing a bright red hijab," said Ali, adding that Mylene told her that since Trade Secrets promoted hair, headwear was unacceptable.
"She said she saw me wearing a black hoodie to work on Saturday and I told her it was a scarf," said Ali. "She then said she didn't care what it was…. Her exact words were, 'we don't promote scarves here, we promote hair'. She said, 'before you start work today, get rid of that thing off your head'."
Ali said she was caught off guard and went into the back of the store in a daze. "I was upset and I decided to go home."
On Tuesday, as she was exploring her legal right to wear the hijab, she received an email saying she was fired because of concerns relating to "productivity, contribution and lack of initiative". Ali said it was news to her. "No one ever told me there was a problem with my work," she said Wednesday.