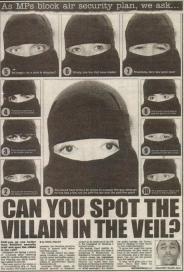 "Can you go one better than Britain's security staff and spot the villain in the veil?" the Daily Star asks its readers.
"Ministers are facing a storm of criticism after resisting calls for routine checks on anyone wearing one while boarding a plane in the UK. That went against the wishes of an overwhelming 99% of Daily Star readers, who voted in our poll yesterday that Muslims should be forced to remove veils before boarding a plane.
"The outrage follows the astonishing revelation that a Muslim asylum seeker had hidden under a veil to escape justice over the killing of policewoman Sharon Beshinivsky, 38. Somalian Mustaf Jama, 26, skipped security at Heathrow as he jetted out of the UK to his homeland by donning a woman's niqab. His brother Yusuf Abdillh, 20, was convicted earlier this week of murdering Pc Beshenivsky in Bradford in November last year.
"Jama's escape has highlighted the poor state of Britain's airport security and raised fears that political correctness is preventing full checks from being carried out on veiled passengers. But despite the public outrage, the Goverenment is refusing to order checks on ALL veiled passengers.
"To prove how tough this makes identification, we have veiled up some of the world's most notorious criminals, plus a few famous faces. Can you tell the goodies from the baddies?"