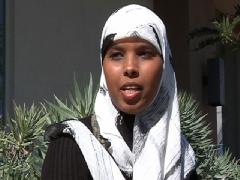 A woman who wore an Islamic head scarf to a local bank said she was turned away and singled out, and is a victim of discrimination. Amal Hersi and her family moved to the U.S. from Somalia in search of freedom. Hersi said she's had the freedom she's wanted, up until last Saturday. "I felt like a criminal. I felt humiliated. I fell ashamed," said Hersi.
Hersi said she was waiting in line at the Navy Federal Credit Union in Mission Valley when she said she was stopped by an employee. "So she goes, 'Ma'am, could you follow me?' And at that point I was like what did I do wrong?" said Hersi. Hersi said the reason was because she wore a traditional Muslim scarf.
Even after telling the employee she wore the scarf for religious reasons, she was asked to remove it. She compares herself to any other person wearing a garment, like a Jewish man wearing a Yarmulke or a Catholic nun wearing a habit.
Many banks have policies like this in order to deter bank robbers, a representative from the Navy Federal Credit Union said. "In the interest of security and safety for our members and employees, hats, hoods and sunglasses must be removed when entering the branch office," Navy Federal Credit Union said in a statement.