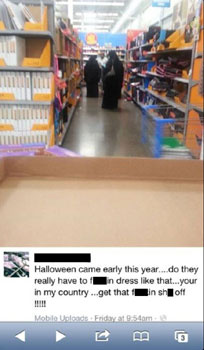 The New York chapter of the Council on American-Islamic Relations (CAIR-NY) today called on Walmart to discipline an assistant manager at a store in Hamburg, N.Y., who reportedly posted a photo of Muslim customers on Facebook accompanied with derogatory comments.
In his posting, the assistant manager wrote: "Halloween came early this year … do they really have to f**kin dress like that … your [sic] in my country … get that f**kin s*** off!!!!!!"
In a letter to Walmart, CAIR-NY asked that "appropriate disciplinary action" be taken against the manager.
"We urge Walmart to send the message that all customers, regardless of religion or national origin, must be safe from harassment and intimidation by employees," says CAIR-NY Board President Ryan Mahoney.
Mahoney said CAIR-NY is concerned with this case because the photograph was apparently taken while the manager was at work, not on his personal time.
CAIR press release, 4 September 2013
Update:  See "Hamburg Walmart manager fired over anti-Muslim posting", Buffalo News, 4 September 2013
Update 2:  See "Muslim group asks Walmart to re-hire manager fired over Facebook posting", Buffalo News, 12 September 2013