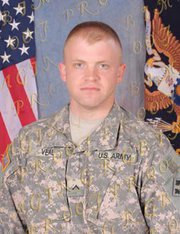 The Council on American-Islamic Relations (CAIR) today called on the FBI to investigate a death threat posted on its Facebook page by a person claiming to be in the U.S. military.
A man who says he is an "M1 Abrams Armor Crewman" who lives in Colorado Springs, Colo., threatened to kill others who commented on an article posted Saturday on CAIR's Facebook page.
In a series of comments on CAIR's page, "Edward Veal" wrote: "no more islam! i will kill any who try to make my country muslim!. . .especially repliers to this post. . .all muslims are terrorists, they should have no rights at all. . .if i find out who you are, i will find you. . .and remove you!" [Grammatical errors maintained.]
"Death threats like those posted on CAIR's Facebook page should be taken seriously by the FBI and by local law enforcement authorities, particularly given the access the person who allegedly made the threat would have to military-grade weapons," said CAIR National Communications Director Ibrahim Hooper.
Hooper added that CAIR will also report the threat to relevant Pentagon officials.
CAIR press release, 18 February 2012