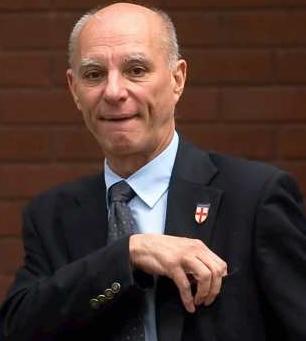 A high-flying businessman was hauled before the court for a tirade of religious abuse at a Muslim immigration official waiting to check his passport.
Anthony Holt, 65, had become wound up after reading an article in the Daily Mail about the "victimisation of Christianity" on a flight into Manchester. When he landed, the retired consultant refused to go through a desk where Sayima Mohammed was on duty.
He astonished witnesses by pointing at her and saying: "I don't want to be seen by that. I don't want to be seen by any Muslim in a position of authority. I want to be seen by someone who's English. This is England. This is my country. I'm not into all this Islam."
As Ms Mohammed burst into tears, her colleagues refused to check Mr Holt's documents and ordered him to calm down. When police arrived, Holt turned his attention to a cop, saying: "That's Islam. I'm not going to that. This is my country." The 15-minute row only ended when he was arrested.
During a police interview Holt claimed the abuse was not "personal". He said: "The problem I have is with Islam as a whole. It's threat to the British population and the British way of life. I wanted to take a stand."
Holt, of Railway Road, Urmston, pleaded guilty to using religiously aggravated threatening words or behaviour. He was ordered to pay £100 compensation and a £145 fine.
Trafford magistrates heard he had worked as a consultant advising lawyers about the purchase of railway stock until his retirement earlier this month.
The court heard the outburst took place in front of a queue of witnesses, including children. In a statement to police, Ms Mohammed said: "I felt threatened, shocked and humiliated to be treated in that manner for no apparent reason."
Praveen Sethi, defending, said Holt had been flying into Manchester at the end of "a stressful week". He had been reading an article in the Mail in which the former Archbishop of Canterbury Lord Carey spoke of the "victimisation of Christians and Christianity".
Mr Sethi said: "He took his frustrations out on the first person he saw. Mr Holt is a man of previous good character. He's not a racist nor against any religion what-so-ever, which makes it even more surprising he carried out this act."
The court heard Holt suffered from a neurological disorder which meant he could "explode" at any time.
Holt told magistrates his comments were not directed to Ms Mohammed, but at the fact she was wearing a scarf. He said: "I have pleaded guilty because I am. It's totally out of character for me. I deeply regret it and deeply regret any offence or distress I caused the lady. Nothing I said was directed to her personally."
Geoff Homer, chairman of the bench, told Holt: "You have said to this court this is a one off incident and we accept that."