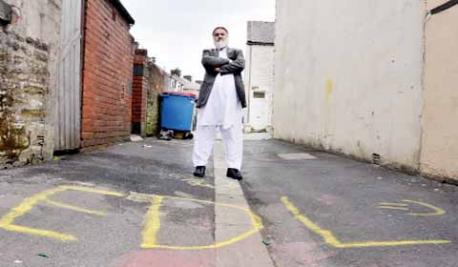 A racist graffiti attack in a back street in Burnley has been condemned by community leaders. And a councillor is in no doubt it was part of a misguided backlash after the killing of Drummer Lee Rigby, in Woolwich, last week.
Racist slogans were daubed on a security door, pavements and commercial bin, alongside the initials of the far-right English Defence League and British National Party, behind Cobden Street.
Coun Gary Frayling was told about the graffiti by residents yesterday morning, and was hopeful it would be cleaned off overnight.
He said: "I think there's a connection with what went on in Woolwich, because of the EDL and how they reacted to it. It's absolutely disgusting. It's not happened here for a long time and suddenly, after what happened to the soldier in Woolwich, this has happened. It must be linked."
Lancashire Telegraph, 28 May 2013
See also "Burnley racist graffiti attack is suspected backlash to Woolwich soldier killing", Asian Image, 28 May 2013