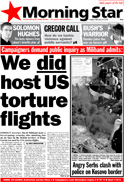 Britain did host US torture flights
By Louise Nousratpour
Morning Star, 22 February 2008
FOREIGN Secretary David Miliband made a forced apology yesterday after admitting that an air base on the British territory of Diego Garcia was used by CIA torture flights.
Mr Miliband's belated admission stood in stark contrast to new Labour's previous claims that the US had not used British territory or airspace for "rendition" flights.
In the face of credible evidence gathered by human rights organisations, former foreign secretary Jack Straw and former prime minister Tony Blair both flatly denied that rendition flights had touched down on British soil.
In a Commons statement, Mr Miliband told MPs that he was "very sorry" that previous information given by ministers had been "incorrect."
Details of the two flights, which stopped to refuel at the Indian Ocean island in 2002, were only passed to the government by US authorities last week. Mr Miliband claimed that this was due to an "administration error" on the part of the US. He hailed Washington's "voluntary" decision to disclose the information as a sign of US commitment to ensuring that it will not happen again.
Campaigners and Labour MPs reacted furiously to the disclosure, warning that the US had "deliberately lied" to the British government and would do it again.
Foreign affairs committee chairman Mike Gapes told the Commons: "The fact that the US Bush administration has clearly misled or lied to our government has resulted in our government inadvertently misleading a select committee of this house and members of this house."
Gerald Kaufman called on Mr Miliband to put pressure on the US to "end rendition flights altogether, for them to end the disgusting practice of waterboarding and the total closure of the illegal facility at Guantanamo Bay."
Labour MP Lynda Waltho demanded to know "what's so special about a relationship where one of the partners appears to abuse trust, truth and respect."
Lib Dem Ed Davey echoed calls for an inquiry, adding: "Rendition is state-sponsored abduction and waterboarding is torture."
Stop the War Coalition convener Lindsey German rejected Mr Miliband's claims that Britain would never "participate or instigate" rendition and torture. "Britain has its own scandals of torture in Iraq and illegal detention," she stressed. "It is extremely likely that Tony Blair knew about these CIA flights and lied about it to Parliament, as he did on other issues."
Legal action charity Reprieve said that the two Diego Garcia renditions were "far from" an isolated case. In a report published last year, the charity warned that CIA torture flights had used Scottish airports 107 times for refuelling.
Director Clive Stafford Smith said: "In October 2007, Reprieve released flight logs showing a CIA plane flying in and out of the island. The UK denied it. A US general has twice said Diego Garcia was used as a secret prison and the Council of Europe confirmed it. The UK denied it. Today, we learn the truth – UK territory was used in the CIA torture programme."
Amnesty UK director Kate Allen said that it was "not enough" for Britain to accept US assurances, but "we should retain our own integrity and act accordingly."
Mr Miliband rejected the demands for an independent inquiry. He said that, "for the avoidance of doubt," his officials would compile a list of all flights where there were concerns that rendition may have involved travel through Britain or the Overseas Territories. The list will be sent to the US, which will be asked for "specific assurance" that none of the flights was used for rendition.
Both CIA flights through Diego Garcia contained a single detainee, neither of whom was a British nationals or residents. One is being held in Guantanamo Bay and the other has been released.