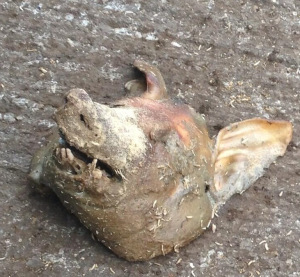 Police are treating a Muslim family's complaint that pig heads were dumped at their Bradford home as a hate crime.
Sophia Ditta posted on her blog how her family found four heads in her garden in the Bolton area of the city.
She said: "As a 34-year-old British Asian woman from a Muslim household in Bradford, I am sad to report on the first ever race hate incident that I have personally experienced. Four pig heads were placed in my garden. I am not scared by this pathetic attempt to offend me because of the religion I was born into. As Muslims, we are not supposed to eat pork.
"Those dead pigs in my garden only offended my nose and good sense of hygiene. On Friday, June 14, my family woke up to go to work and initially discovered two decomposing, maggot-infested, gut wrenchingly awful smelling pig heads placed in our garden. One by our front door, and one by our back door."
She said that her father later discovered a further two rotting pigs' heads in the bushes in the garden.
A West Yorkshire Police spokesman yesterday confirmed officers received a call about the incident at 7.23am on June 14. "It is thought that it happened overnight. It was an address in the Bolton area and is being treated as a hate crime incident," the spokesman added. "Officers have visited the address and spoken to the victim. Anyone with information is asked to contact 101 or Crimestoppers on 0800 555 111."