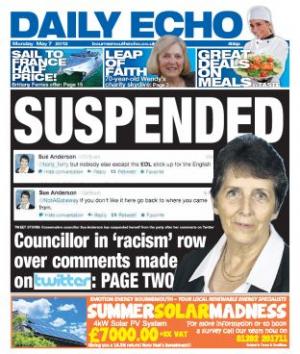 A Bournemouth councillor has apologised "unreservedly" after saying online that only the English Defence League "sticks up for the English".
Conservative councillor Sue Anderson said she had suspended herself from the party and referred herself for disciplinary procedures.
She made the comment via her Twitter account on Saturday.
Ms Anderson said she had also referred herself to Bournemouth Council's Standards Board.
The married grandmother has been a councillor for the Moordown ward in the Dorset town since 2007.
Her Twitter comment posted in a conversation on Saturday read: "but nobody else except the EDL stick up for the English." The account has since been taken down from the site.
On Sunday Ms Anderson issued a statement saying the comment had been made in haste.
"As a result of the attention it has attracted, I have been made aware that a previous comment may also have been offensive. For both comments I apologise unreservedly. I would like to make it clear that I in no way support the English Defence League or any other organisation that promotes intolerance."
She said she realised her comments were "incompatible with active participation within the Conservative Party" so had suspended her membership of the Bournemouth East Conservative Association and Bournemouth Conservatives Council Group.
The comment that Anderson concedes "may also have been offensive" read: "If you don't like it here go back to where you came from."