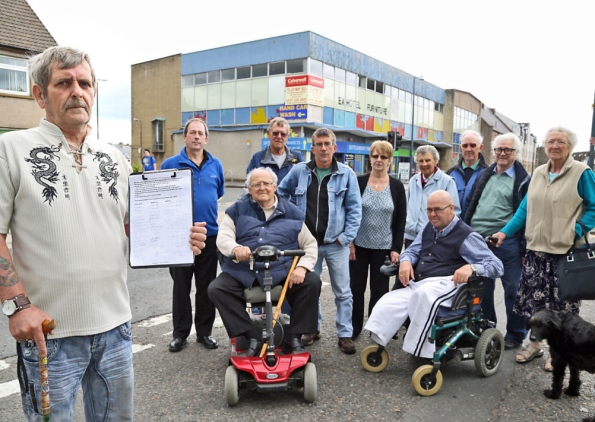 Plans to open a mosque and Muslim community centre in central Bonnyrigg have sparked concern among local residents. Midlothian Council has received 37 written objections to applicant Mohammed Asaf's application to turn property at 81-83 High Street into a meeting place for local Muslims.
Objectors have also submitted a petition. Signed by 19 residents at nearby Regal Lodge sheltered housing complex, it claims there is a lack of parking and demand for such a facility. It further states that such a facility "would not benefit the local people but would rather encourage people from other areas outwith Midlothian to use such a facility."
David Somerville, a retired lorry driver with Midlothian Council, organised the petition along with his neighbour Mike Moore. Mr Somerville, of Regal Lodge, explained: "It [the planned centre] is not wanted in Bonnyrigg. Walk along the High Street and speak to anyone and they will tell you that they are against it."
Midlothian Advertiser, 4 July 2013
One comment on the Advertiser report questions the view that there is majority opposition to the plan in Bonnyrigg, adding: "There have been no complaints about the amount of 'christian' churches in the area so why complain about this? The building is an eyesore the way it is now, at least it will be used regularly and will more than likely be tidied up a bit to look more respectable. So what if people come from other areas, surely that's a good thing for all the local businesses and the town itself. It's about time people got with the 21st century and learn to accept there are other cultures thriving in the area and have been for years."
Here, from the earlier report in the Advertiser, is a photo of the disused property that the Midlothian Muslim Community Centre organisation intends to take over and renovate. As the report notes, a local councillor has described the building as "a disgrace" and "the ugliest building in Bonnyrigg". Apparently some of the town's inhabitants would prefer to retain this eyesore rather than allow the Muslim community to put it to good use. Shades of the current planning dispute over a proposed Muslim-run community centre in Tower Hamlets.