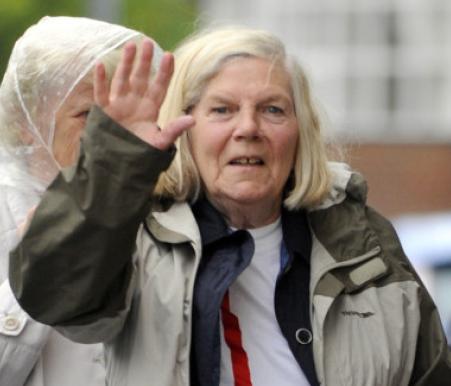 A Hampshire gran has denied being a racist – despite sending hundreds of letters containing racial slurs. Pensioner Margaret Walker sent the handwritten mail to parish councils, MPs, businesses, pubs and clubs nationwide.
The targets of her anonymous campaign ranged from politicians – including Prime Minister David Cameron, who she claimed was "flooding the country with ethnic people" – to the BBC, which she claimed was a "Marxist organisation". Walker, 73, of Walnut Drive, Fareham also referred to Scottish people as "scum", called people of Pakistani origin "scroungers" and used a variety of racist terms.
Many of the letters, sent over several years, referred to the unsolved case of white 14-year-old Charlene Downes, who disappeared from Blackpool in 2003.
Two Middle Eastern men were acquitted of her murder in 2007 after the Crown Prosecution Service conceded it had "grave doubts" about crucial evidence. Despite their acquittal, the court heard that Walker referred to the men in her letters as "Muslim, paedophile murderers".
She admits writing around 500 letters but claims they were not antisocial. She told the court:
"I wrote the letters because I was absolutely disgusted that for 30 years my countrymen, cousins, children have been sexually abused, raped and in some cases murdered by Muslim paedophiles and people didn't know what was going on in this country because it was hidden by the establishment. I'm English and if you're English in this country with a voice you're called a racist."
Southern Daily Echo, 11 September 2012
See also "'Racist' gran says she was trying to expose cover-up",Portsmouth News, 11 September 2012
Although Walker denies she is a member of the British National Party (she says she just "admires and supports" them), the BNP hailed her as a heroic defender of the right to free speech and organised two demonstrations in her support (see here and here). The party's South East region even posted scans of her hate-filled leaflet on their website, praising its "use of imagery, metaphor and quoted statements" and describing it as "probably the most hard hitting, no nonsense piece of campaign literature that I have ever had the experience of reading".
However, it may be that the BNP is now having second thoughts about being publicly associated with an unbalanced crank like Walker. Her leaflet has since been removed from the BNP South East website and when the party's regional press officer Tim Rait, who appeared as a witness for the defence, was presented with the material Walker had sent, he replied: "It's not a thing we would have issued – maybe that's tantamount to disassociating ourselves with it."