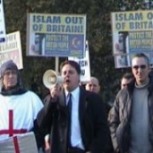 The BNP has been reported to the Electoral Commission over a campaign leaflet that falsely claims there are more Muslims in the UK than Scots.
A pamphlet was put through letterboxes across Scotland which said the BNP would put an end to mosque-building and warning of a "flood" of Eastern European immigrants about to arrive in Scotland.
Campaign group, Hope Not Hate, has reported the party over its claims. There are an estimated 2.4 million Muslims in Britain and more than five million people in Scotland alone, 89% of whom declared themselves Scottish in the last census.
Aamer Anwar, human rights lawyer, said Muslims could be intimidated by the leaflets and they should call the police if they felt threatened. He said: "This could be considered breach of the peace. It's racist nonsense which is totally inaccurate and trying to play on people's fears."
BNP Scottish organiser Gary Raikes said the leaflets were checked before going out and questioned whether the UK's Muslim population had been accurately measured.