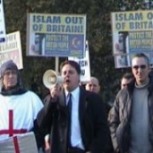 Yesterday the Blackpool Gazette reported that there had been "relief and delight" when the council's planning committee rejected an application by the Noor-A-Madina Mosque.
As is usual in such cases, formal objections had centred on supposed parking problems, and opponents claimed that their campaign against the mosque had "nothing to do with race or religion". But there was evidence to suggest otherwise. It was also clear that the English Defence League was involved in whipping up fear and hatred over the issue (see here and here).
The British National Party MEP for North West England, Nick Griffin, has now posted a statement on his website hailing the planning committee's decision as "a victory for the people". The statement claims:
Nick Griffin MEP was contacted earlier by a number of concerned residents following a meeting of over 100 people opposed to the mosque. Responding to their appeal for assistance Nick advised: "I believe that it is imperative that the building of new mosques is halted in order to prevent Britain being further colonised by Islamists. It is in the power of the residents of South Shore to stop this one by lobbying Blackpool Council to refuse this planning application."

In a letter to residents in October, Nick's Constituency Office explained to the public how to voice their opposition. His office urged people to contact the council and present their concerns, "It is highly likely that the Council will approve the mosque's planning application unless the opposition campaign is of sufficient strength to ensure that they have no choice but to listen to the will of local residents. It is important, therefore, that as many people as possible make their objections known to Blackpool Council. Anyone can send in their views about a current planning application via Blackpool Council's on-line planning application pages."
See also Griffin's earlier report "New mosque will change the face of Blackpool".
Update:  See "'It can be done' – Local opposition blocks Blackpool mosque", BNP news report, 1 December 2011
Update 2:  The EDL are also claiming credit for the planning committee's decision: