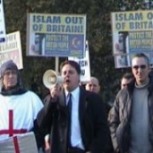 A teacher who posted comments on the internet describing some immigrants as "savage animals" and "filth" was cleared of racial and religious intolerance today. Adam Walker, a British National Party (BNP) activist, used a school laptop to claim in an online forum that Britain was a "dumping ground for the filth of the third world".
Walker was a technology teacher at Houghton Kepier Sports College in Houghton-le-Spring, near Sunderland, at the time. He is the first teacher to be brought before the teaching profession's watchdog – the General Teaching Council (GTC) – accused of racial intolerance.
The disciplinary panel, made up of three people, said it was "troubled" by Walker's postings but was not satisfied that the "intemperate" views suggested intolerance.
Walker, a former soldier, had posted the comments on a forum of Teesside online about the popularity of the BNP in February and March 2007. Under the pseudonym Corporal Fox, Walker wrote that the BNP had risen in popularity because "they are the only party who are making a stand and are prepared to protect the rights of citizens against the savage animals New Labour and Bliar [sic] are filling our communities with".
The same day he added: "By following recent media coverage of illegal animals and how they are allowed to stay here despite committing heinous crimes, I am, to say the very least, disgusted."
Delivering the committee's verdict, its chair, Angela Stones, said some of Walker's postings contained offensive terms and demonstrated views or an attitude that might be considered racist.
But she said: "The committee does not accept that references to 'immigrants' are of themselves suggestive of any particular views on race. The committee accepts that immigrants to this country come from all over the world. A negative comment about immigration to the UK of itself need not be indicative of racist views or racial intolerance since the race of immigrants is extremely varied."
Responding to the news that Walker had been cleared, Chris Keates, general secretary of the NASUWT, the largest teachers' union, said:
"This is an absolutely staggering judgment from the GTC. The GTC's code of conduct requires teachers to 'demonstrate respect for diversity and promote equality' but the decision today makes a mockery of the code. The GTC panel described Walker's comments as 'troubling'. This must go down as a gross understatement. With this decision, the GTC has effectively given a licence to promote religious and racial hatred in schools."
---
Still, the panel's decision will find favour in some quarters. Over at Spiked, for example, Nathalie Rothschild has indignantly opposed "the campaign, spearheaded by the National Association of Schoolmasters/Union of Women Teachers (NASUWT), to prevent BNP members from working in British schools. This is about banning certain individuals from taking up teaching, not because they lack relevant skills or training, but because their private views are deemed unacceptable and because they are seen as a potentially poisonous influence on children and on society at large".
Rothschild demands: "What gives certain individuals the right to deem certain beliefs, opinions and outlooks as being beyond the pale, dangerous, illegal? And who is to say that your opinions or mine won't be seen as unacceptable in the future? Accepting the GTC's charge against Walker – no matter what you make of his views on Muslims and migrants – is to agree that the powers-that-be should have the authority to exclude people from public positions on the basis of their beliefs and thoughts."