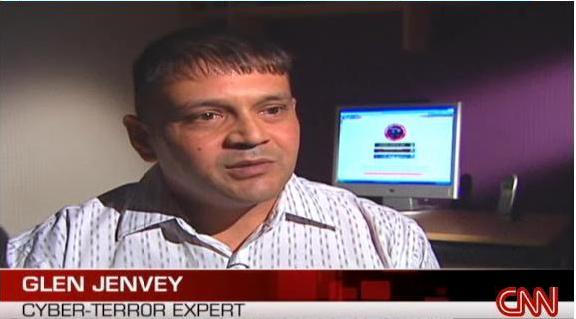 Let's begin by going back to the Sun non-story that prompted this initial post:
The Sun – Islamic fanatics name Alan Sugar, Mark Ronson and Lord Levy in a hit list of Britain's leading Jews: British anti-terror expert Glen Jenvey is convinced online forum Ummah is being used to prepare a deadly backlash against UK Jews. His warning came as Europe was hit by anti-Semitic attacks over Israel's push into the Gaza Strip…. Mr Jenvey, 43, said: "The Ummah website has been used by extremists. Those listed should treat it very seriously. Expect a hate campaign and intimidation by 20 or 30 thugs."
It would now appear that this entire non-story actually began with Glen Jenvey feeding an unknown quantity of information to the Sun 'news' paper. Glen Jenvey bills himself in this bio as a 'freelance terror investigator', is described in this article as a 'freelance intelligence agent', and is described in his Wikipedia entry (that heregularly edits himself) as a former spy who now "uses the internet to infiltrate terrorist organisations."
Search for his name in Google News and poke around 'all years', and you'll see his name attached to quite a few terror-alert stories, with highlights including this one, which has a lovely Christmas theme throughout, and this 'New Year' warning in the Sun that is very recent indeed.
I would go into more detail (there is lots!) but for now, all you need is this and possibly the knowledge that some of Glen's past exploits have – according to reports from his supporters – resulted in warnings and "threats of arrest" from the authorities.
Now, the Sun have in this article based their claim of militant Muslims targeting "Britain's leading Jews" on comments made by 'abuislam', specifically in this passage:
"Abuislam" asks: "Have we got a list of top Jews we can target? Can someone post names and addresses?"
Though the Sun suggests otherwise, the only forum contributor pushing for anything other than a polite letter-writing campaign (details here) is posting under the name 'abuislam'…. and I'm looking at evidence right now that strongly indicates that Glen Jenvey and 'abislam' are one and the same person.
In other words, he has created the very 'militant' content that the Sun has based their story on.
Further, in his quote he warns those listed to take the threat very seriously and to "expect a hate campaign and intimidation by 20 or 30 thugs"… when he was the one who listed them, and was the only person talking about doing anything other than writing letters!
See also "Bloggers expose Sun's anti-Muslim propaganda" by Tom Griffin.