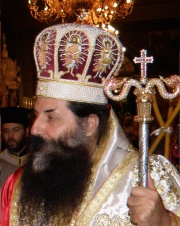 According to the Greek press, Greek Orthodox Bishop Metropolitan Seraphim of Piraeus appealed to the Council of State to withdraw a Greek bill that would allow the building of a mosque in the capital city, Athens.
Known for his far-right views, Seraphim described the bill as an anti-Christian move and a disrespect to Christian martyrs, although it is billed as democratic move.
In the previous years, there were talks of building a mosque in Athens. However, no steps were taken as the previous governments' ministers were mainly right-wingers.
This year a bill which asked for an old building in the Votanikos region of Athens to be converted into a place of worship for Muslims passed through the Greek parliament.
Today's Zaman, 29 December 2011
Update:  See also "Bishop appeals against mosque project in central Athens", ekathimerini.com, 3 January 2012