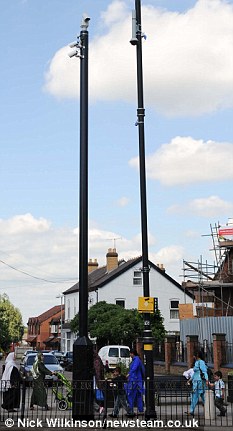 More than 200 cameras targeted at Muslim suburbs of Birmingham as part of a secret counter-terrorism initiative are to be dismantled, it emerged today.
The West Midlands police chief constable, Chris Sims, said he believed all cameras installed as part of the £3m surveillance initiative should be taken down to rebuild trust with local Muslims.
The scheme, Project Champion, was shelved less than six months ago when an investigation by the Guardianrevealed police had misled residents into believing the cameras were to be used to combat vehicle crime and antisocial behaviour.
In fact, the CCTV and automatic number plate reading (ANPR) cameras were installed as part of a programme run by the force's counter-terrorism unit with the consent of the Home Office and MI5.
Police failed to obtain statutory clearance for around a third of the cameras, which were covert. After the Guardian's investigation, bags were placed over the cameras, which had been installed in Sparkbrook and Washwood Heath.
In a statement, Sims said: "I believe that the support and the confidence of local communities in West Midlands police is the most important thing for us in the fight against crime and terrorism. We can fight crime and the threat posed by terrorism far more effectively by working hand in hand with local people, rather than alienating them through a technological solution which does not have broad community support."
Sims made no reference to the legal action he would have faced if he let the scheme continue. The civil rights organisation Liberty wrote to the force last week, threatening to commence judicial review proceedings at the high court unless the force agreed within 14 days to "dismantle the full surveillance infrastructure".
See also ENGAGE, 25 October 2010
Update:  See "Victory for no to spy camera campaign!" by Birmingham councillor Salma Yaqoob.