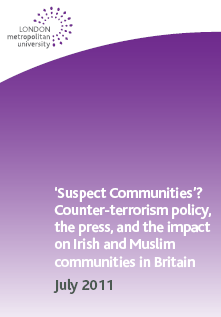 Researchers will call for the urgent reform the UK's counter-terrorism strategies when they present their findings in Birmingham.
According to the research carried out in London and Birmingham, the way politicians, policymakers and the media discuss who might be responsible for bombings was similar to those in the period when there were IRA bombings in Britain.
The report found that similarities emerged in the experiences that the Irish and Muslim communities had during times of increased terrorist activity, but 30 years apart.
Prof Mary Hickman, Director of the research at London Metropolitan University, said: "The research reveals the extent to which the Irish in Britain lived with the fear of association with the IRA and the impact it had on their lives.
"While the focus of contemporary counter-terrorism policy remains fixed on rooting out extreme ideas it encourages the public to treat Muslims as potential 'suspects' or legitimate objects of abuse. Future policies must ensure they do not undermine the trust Muslim communities have in state institutions nor their sense of belonging in Britain."
The findings will be presented at an event at Carrs Lane Community Centre, Birmingham city centre, from 6.30pm to 8pm tomorrow. Attendance is free but places are limited. To book ring 0207 133 2927 or email suspectcommunities@londonmet.ac.uk