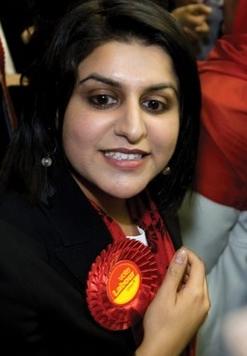 A Birmingham MP has attacked a city college's controversial decision to ban students from wearing Muslim veils.
Shabana Mahmood, MP for Ladywood, said she was "shocked" and "deeply concerned" at the policy introduced at Birmingham Metropolitan College. She spoke after the Mail revealed students had been banned from wearing all face coverings, including the niqab – which leaves only the eyes visible. Ms Mahmood is now demanding an urgent meeting with college leaders about the decision, which has sparked a furious backlash from some Muslim girls.
"For those that chose to wear the full veil, it is an important article of faith," Ms Mahmood said. "I would like to know how many students are affected and a full explanation as to why the compromise suggested by students at the College, that the veil is removed for security staff to check and verify identity before being put back on, was not accepted by the College.
"I am deeply concerned that other colleges may follow suit, as a result of which increasing numbers of women will be locked out of education and skills training. We must not allow this to happen."
The college said the ban extended to all face coverings including hoodies, hats and caps, and the policy ensured all students could be easily identified.
But councillor Waseem Zaffar, the chairman of the city council's social cohesion board, called the move "baffling". He said: "There is no security threat when students are willing to reveal their faces for security purposes to an official member of staff to demonstrate who they are. "How they dress in their lessons should be entirely up to the students as there is no uniform policy at the college. I hope the college comes to its senses and does a U-turn."
Yardley Liberal Democrat MP John Hemming added that the decision was unnecessary. "I'm of the opinion that if something is not broken, don't fix it," he said. "I know some MPs say they won't talk to constituents wearing veils but I have never worried about it."
College principal Dame Christine Braddock told the Mail yesterday that the policy had been in place for some time and was designed with students' safety in mind.
"To ensure that safeguarding is a priority, we have developed our policy alongside student views to ensure we keep them safe," she said. "This needs individuals to be easily identifiable at all times when they are on college premises and this includes the removal of hoodies, hats, caps and veils so that faces are visible."
And there was support for the college's stance on Twitter and the Mail's Facebook page. One comment read: "These woman choose to wear them, it's not because their religion says so."
Birmingham Mail, 11 September 2013
Sign the petition ("Birmingham Metropolitan College: Reverse your decision to ban Muslim students from wearing veils") by the NUS Black Students' Campaign here.