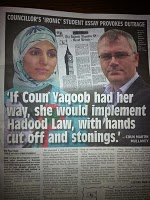 A leading Birmingham Liberal Democrat city councillor has been forced to issue a public apology after accusing a colleague of being a Muslim extremist. Martin Mullaney said he "apologised unreservedly" for stating that Respect councillor Salma Yaqoob supported stoning people to death and wanted to see Britain become an Islamic republic.
The back-down came after a stormy council meeting which saw Coun Yaqoob refuse to join a standing ovation for war hero Lance Corporal Matt Croucher, who won the George Cross for bravery in Afghanistan. The snub led Coun Mullaney to suggest Coun Yaqoob would have stood to applaud a suicide bomber.
He wrote on a website: "I can only assume that if one of the failed 21/7 London suicide bombers had been in the council chamber, Coun Yaqoob would have been demanding the council applaud the failed suicide bomber for their past heroic actions. If Coun Yaqoob had her way, she would be implementing Hadood Law, with hands cut off and stonings."
At least two councillors have reported Coun Mullaney over the incident to the city's Standards Committee, which could suspend him from the council. His conduct was also criticised by Birmingham Lib Dem leader Paul Tilsley, although the party is not taking disciplinary action against him.
Coun Mullaney published the following apology to Coun Yaqoob: "I have been made aware of a couple of formal complaints to the city council's Standards Committee about comments that I recently made relating to you which could potentially have been damaging to you.
"I recognise that my comments were unfounded, insensitive and overstepped the mark in terms of the code of conduct for members.
"As such, I apologise, unreservedly, to you, the complainants and the members of the Standards Committee for those remarks and the hurt that they, undoubtedly, caused. I hope this draws a line under the matter."
Birmingham Post, 29 March 2011
---
You can listen to Salma speaking on Woman's Hour yesterday about the French niqab ban here.
Update:  See also the Birmingham Mail which quotes Salma Yaqoob as stating: "I accept the apology, but it is a shame that it has come in grudging manner after the Standards Board became involved. It proves that I do not have the views attributed to me in the statements by Councillor Mullaney. People may ask why he remains a Cabinet member after this episode. There should be no place in Birmingham for the politics of bigotry and malice."
Further update:  See ENGAGE who urge their readers to protest to Nick Clegg over his party's refusal to take disciplinary action against Councillor Mullaney. The Lib Dem leader can be emailed at nick.clegg.mp@parliament.uk