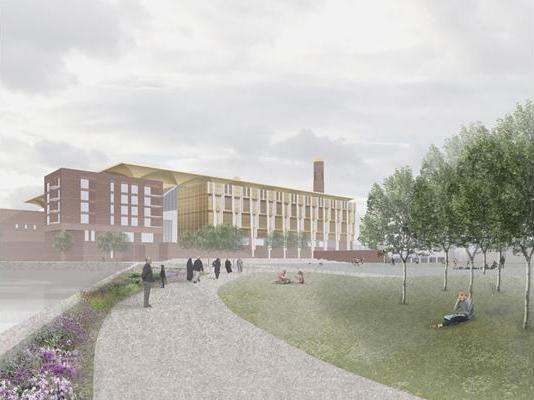 Plans to build Britain's biggest place of worship – a "monolithic, overly dominant and incongruous" mosque in east London – are set to be thrown out despite 25,000 letters in favour.
The mosque, which could take 12,000 people – four times as many as St Paul's Cathedral – would be as big as Battersea power station and become the HQ of Islamic sect Tablighi Jamaat. However, officers for Newham council recommend the plan is refused.
The sect, to which the July 7 bombers and shoe bomber Richard Reid have been linked, could now be forced to leave the Abbey Mills site altogether in Canning Road, near the Olympic Park, after a 13-year battle.
Alan Craig, campaign director of MegaMosque No Thanks and a former Newham councillor, said: "Now it's up to the planning committee to follow the recommendation to reject. The building would be ugly, it would add nothing to the area and we have huge concerns about the group behind it."
Tablighi Jamaat first submitted plans to use the site, which has several prefab buildings, in 1999, arousing intense opposition from the start. In 2001, it agreed worship there would be on a temporary basis only, but when permission expired in 2006 the group continued to use the site.
In 2010, the council issued an enforcement notice but Tablighi Jamaat won its appeal last year and more than 5,000 people a week now worship at the site. The giant new mosque would have 40ft minarets, a visitors centre, a library and a 300-space car park.
The council's special strategic development committee meets next Wednesday to decide. The planning office received 3,000 letters opposing the scheme. Only one per cent of the 25,000 letters of support were from people living in the local consultation area.
Critics claim Tablighi Jamaat preaches "separation and segregation". The group maintains its main objective is peaceful missionary work.
The Anjuman-E-Islahul-Muslimeen of London UK Trust, Tablighi Jamaat's charitable trust and the site's owner, said it will appeal if the plan is thrown out. Newham council said: "Officers have made a recommendation for refusal, which will be considered.
"Our planning policies promote the development of the Abbey Mills site for a mix of residential, employment and community uses, to help create a new local centre near West Ham station and regenerate the area. It is not considered this application is consistent with these policies.
"There are also concerns about the size of the proposed buildings and impact on parking and traffic."
Evening Standard, 29 November 2012
See also "Newham council officers recommend so-called West Ham mega mosque is rejected", Newham Recorder, 28 November 2012
Update:  Needless to say, the far right can scarcely restrain their joy at the news. Alan Craig must be so proud.