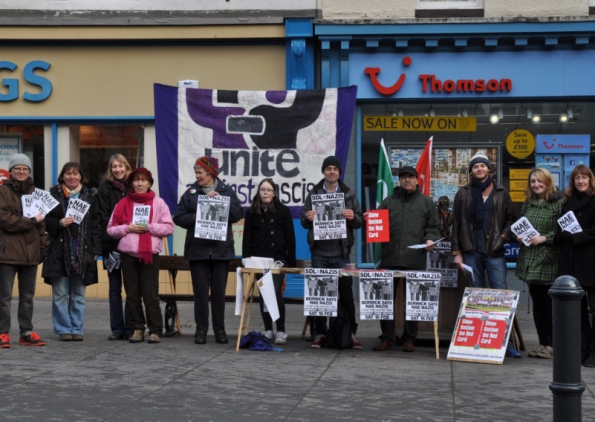 The newly-formed Berwick Unite Against Fascism group has been drumming up support ahead of a demo this weekend. The group, which came together in response to Scottish Defence League plans to march in the town this weekend, pledges to bring all platforms and all colours together to show that the town is united against fascism.
A spokesman for Berwick UAF said: "We had a very good day in Berwick on Saturday and garnered a lot of local support for opposition to the proposed SDL march in Berwick next Saturday. We distributed hundreds of leaflets explaining the situation and the reasons for opposing the SDL. The demonstration is open to all who oppose the SDL and other racist groups who threaten our town."
Police and Crime Commissioner Vera Baird is among those to pledge support for Berwick UAF. In a note to campaign organisers, she said:
"My thoughts and support are with you. I am proud to be Police and Crime Commissioner of a community that lives and works together – it's not where somebody has come from, but how they are going to reach their aspirations and dreams, regardless of where they were born, sexual orientation or religious beliefs.
"I hope that you are able to speak to as many local people as possible during your campaign. I was recently in Berwick, I know how warm and friendly the local residents are." She added: "Campaigners achieve much more by standing on reasoned arguments rather than bigoted views. I have no doubt you will be persuading local residents, encouraging them to support your campaign to show others that Berwick and surrounding areas will not tolerate small minded attitudes."
Posts on the SDL Border Division facebook page contain a series of anti-Islamic references and seek to drum up support for its Berwick demonstration.
Independent political writer and 'Chavs' author Owen Jones has also offered his solidarity to Berwick UAF. He said: "Racism and fascism cannot be debated with, it must simply be defeated."