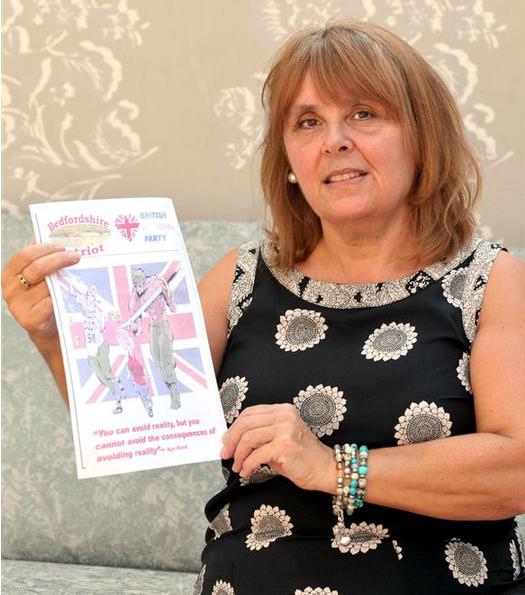 A former MP candidate has said that she is shocked that no action is being taken against a British National Party leaflet that she believes is "racist".
Linda Jack, of Furze Close, Luton, said she was disgusted when the leaflet came through the door early last Sunday morning, and branded its literature "nasty" and "offensive".
Under the title "Racist Muslim Paedophilia", the content read: "The facts of the matter are that the "Pedostani" gangs could not have got away with their sick and evil crimes for so long had the establishment not turned a blind eye."
Ms Jack, who stood as the Liberal Democrat Parliamentary candidate for Luton North in 2005, said: "I felt that this leaflet was highly offensive, misleading and in my view constituted a hate crime as I believed it was racist.
"I think that the leaflet as a whole was racist as I felt it attempted to conflate paedophilia with Islam and Pakistanis in particular.
"I called Bedfordshire Police on Sunday and an officer came to see me on Tuesday to discuss my concerns. She took the leaflet away for it to be looked at, but to learn that no laws have been broken is shocking.
"When you think about all the recent issues with what people have said on social media websites like Twitter and Facebook, I can't see how this is much different to be honest. It might be that the content of leaflets like this should be looked at more seriously."
A Bedfordshire Police spokesman said: "The BNP is a properly constituted political group and while some people find their literature distasteful and/or offensive, it does not actually transgress the law. It should also be remembered that the Human Rights Act provides all with a right to express their views in a lawful manner.
"The leaflet was taken away by a member of the Local Policing Team and was shown to the Community Cohesion Officer, and both deemed it not to break the law."
BNP East Region Organiser Steve Squire said: "If the content of our leaflet broke the law we'd have the police knocking on our door, but we're a political party and don't have any interest in breaking the law. Our leaflets are hard-hitting, but sometimes the truth needs to be hard-hitting. Yet again we're being demonised."